How to Postpone Your Tax Return
by Kevin Lee ; Updated July 27, 2017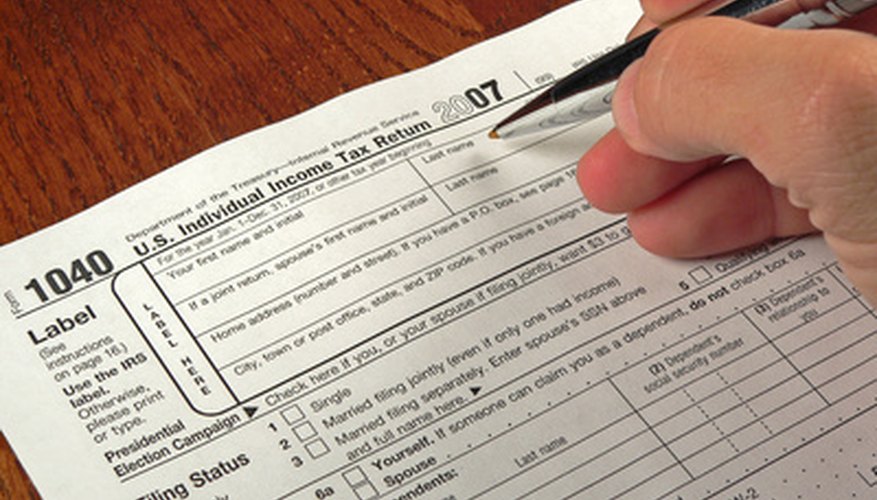 If you cannot file your federal income taxes by the due date, you can request a filing extension. An extension may relieve the stress of meeting the deadline, especially if you have not completed your return. By filing an extension, you do not postpone your tax debt. You must still pay your estimated taxes by the due date. The extension simply gives you additional time to prepare your return and submit it. You do not have to explain why you need an extension.
Step 1
Visit the IRS website before the tax due date.
Step 2
Download Form 4868 and print it. This form allows you to request an automatic four-month extension. For example, if the tax due date is April 15, you will not have to file your return until four months after that date.
Step 3
Fill out section one of the form. Enter your name, address, city, state and Zip Code. Provide your Social Security number at the bottom of that section. If you are filing a joint return, include your spouse's Social Security number as well.
Step 4
Locate section two of the form labeled "Individual Income Tax." Enter your estimated tax liability on line four of that section. The IRS notes on its website that it is important to enter a proper estimate using the information available to you. You must enter a proper estimate on line four to qualify for the extension. The estimated tax liability is the value that you enter on line 61 of Form 1040 if you use that form. It is also on line 35 of 1040A, line 10 of Form 1040EZ, line 60 of Form 1040NR and line 17 of Form 1040NR-EZ.
Step 5
Enter the total federal tax payments that you plan to report on line five. Get that value from line 72 (excluding line 68) of Form 1040, line 41 of Form 1040A, line 9 of Form 1040EZ, line 69 (excluding line 64) of Form 1040NR and line 21 of Form 1040NR-EZ.
Step 6
Subtract the value on line five from the value on line four, and write the result on line six. That is your balance due.
Step 7
Enter the amount you are paying on line 7. If you owe nothing, enter zero. If you owe but cannot pay, the IRS will still approve your extension. You will be subject to interest and penalties on the amount that you do not pay. To limit those penalties, pay as much as you can.
Step 8
Check the box on line eight if you are a U.S. resident or you area U.S. resident living out of the country.
Step 9
Mail the form to the IRS. Find mailing instructions at the bottom of the form.
Tips
If you cannot pay your taxes by the end of the four-month extension, you may qualify for an installment agreement. If the IRS agrees to this plan, you will make monthly payments until you pay off your tax debt.