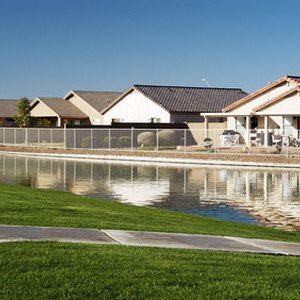 •••
houses on a pond 1 image by Jim Parkin from Fotolia.com
The Land Ordinance of 1785 required the organization of land for newly mandated land surveys. In 1812, the General Land Office, under the guidance of Edward Tiffin, was given the responsibility of surveying and platting the land acquired in the Louisiana Purchase. A land plat is a scale drawing showing the boundaries of a piece of land in a subdivision. The plat provides essential data, such as streets and landmarks, that helps identify the land. Additionally, a plat shows information regarding the access and utilities on the land.
Generally, a borrower is required to provide a copy of the land plat when purchasing land in a subdivision. This is in lieu of a survey.
Visit the courthouse in the county where the land is located. If you do not have a copy of the deed, obtain one from the deed department. With the owner's name and address, the clerk can look up the deed information.
Review a copy of the deed for the land. The deed provides the legal description along with the lot and block numbers. This helps identify the subdivision information when locating the land plat.
Ask the clerk to provide a copy of the plat of land. The plats are recorded in the legal book or on microfilm in the courthouse.
Be prepared to pay for a copy of the deed and plat of land.
References
Writer Bio
Amanda Maddox began writing professionally in 2007. Her work appears on various websites focusing on topics about medical billing, coding, real estate, insurance, accounting and business. Maddox has her insurance and real estate licenses and holds an Associate of Applied Science in accounting and business administration from Wallace State Community College.