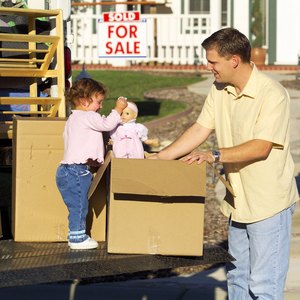 •••
Brand X Pictures/Brand X Pictures/Getty Images
Families hard hit by economic troubles might try to relocate to stretch their hard-earned dollars further. Kiplinger, Forbes and AARP surveyed a variety of U.S. cities to determine where housing prices, general cost of living, taxes and job opportunities could provide the most affordable places to live.
Housing Costs
Harlingen, Texas, heads Kiplinger's list of overall cheapest cities to live, with average home prices at $229,558. Second on Kiplinger's list is Memphis, Tennessee, where home prices average $180,375. McAllen, Texas, on the southern tip of the state, has the lowest average home prices on Kiplinger's list, at $178,000.
Forbes studied 50 of the country's largest cities and came up with 15 that offered the best combination of housing costs, living costs and salaries. Forbes chose Omaha, Nebraska, as its top bargain place to live, citing home prices that have remained steady throughout the last recession. Second on the list was Buffalo, New York, with the second-lowest asking price for houses. Housing in Detroit, Michigan, is cheap, at an average of $132,635, according to Forbes, but the city has a high crime rate.
In choosing the 10 best places to live on $100 a day, AARP named Grand Junction, Colorado, for its climate and affordability, with median home prices at $159,800. Second on AARP's list is Omaha, Nebraska, with a median home price of $123,500.
Cost of Living
Other factors in Kiplinger's No. 1 designation of Harlingen, Texas, as first on the list of cheapest places to live were its low cost of food, transportation and health care. Forbes factored in transportation costs, food, utilities and other items to calculate cost-of-living rankings, and listed Buffalo, New York, tops in affordability of cost of living, followed by Detroit, Michigan; Cleveland, Ohio; Indianapolis, Indiana; Omaha, Nebraska; and Cincinnati, Ohio.
Job Opportunities
Even though Harlingen topped Kiplinger's list of affordable places to live, it also has a relatively high unemployment rate. Memphis, Kiplinger's No. 2 affordable place to live, is a shopping and transportation hub and home to several Fortune 500 companies, as well as colleges and universities. Forbes predicts that the job market in Omaha will remain steady, with an unemployment rate slightly more than half the national average of nearly 8 percent, as of March 2013. Forbes reports that three Texas towns -- Dallas, Houston and Austin -- are among the best for earning a living because of the presence of high-ranking big and small companies. Although Forbes ranked Detroit first in housing prices and second in cost of living, the city has a 13.3% unemployment rate.
Taxes
Property tax, income tax and sales tax are factors that affect the cost of living in any given area. Property taxes are assessed on land and buildings, and are imposed by local governments to fund municipal services and school districts. The Tax Foundation offers rankings of property taxes throughout the U.S.
Seven states -- Alaska, Florida, Nevada, South Dakota, Texas, Washington and Wyoming -- do not have a state tax on personal income. Of the 41 states that collect income taxes, 35 base their taxes on federal returns. All but five states collect state sales taxes.
The Tax Foundation offers a state-by-state ranking, as of 2010, that totals the state and local taxes paid by residents, divided by the state's total income, to project the tax burdens for individual states. New York ranked highest in taxes imposed, followed by New Jersey, Connecticut and California. The lowest-taxing states were Wyoming, Louisiana, Tennessee, South Dakota and Alaska.
References
Writer Bio
As a long-time newspaper reporter and staff writer, Kay Bosworth covered real estate development and business for publications in northern New Jersey. Her extensive career included serving as editor of a business education magazine for the McGraw-Hill Book Company. The Kentucky native earned a BA from Transylvania University in Lexington.