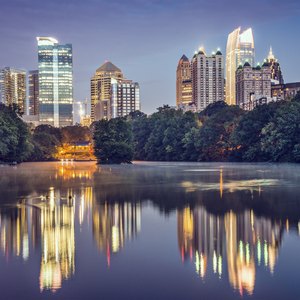 •••
SeanPavonePhoto/iStock/Getty Images
Whether because of job loss, substance abuse, divorce or low income, hunger is a very real issue in the United States. Soup kitchens, food banks, missions, churches and other organizations work hard each day to fight hunger and provide meals for displace members of the community. If you live in Atlanta and want to give back to the community by volunteering to help feed the homeless, several organizations need your help.
Church Organizations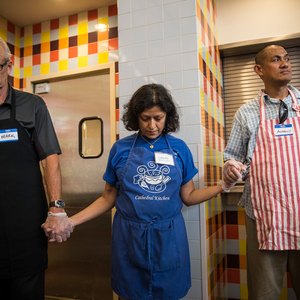 •••
SeanPavonePhoto/iStock/Getty Images
Church groups often run charitable programs that service underprivileged members of the community. Your local church may run a soup kitchen to feed the homeless or know of a church organization that does. Trinity United Methodist, St. Luke's Episcopal and the Open Door Community are three Atlanta church groups that run soup kitchens to help feed the hungry. For more information on volunteer opportunities, visit the prospective church organization's website.
Food Banks
•••
SeanPavonePhoto/iStock/Getty Images
The Atlanta Community Food Bank distributes food and groceries to soup kitchens, pantries, shelters, senior centers and other partner agencies throughout the Atlanta area. The ACFB needs volunteers for various things such as helping run the day-to-day operations, packing food and working special events. Visit the ACFB website and fill out a volunteer form. The ACFB welcomes individual and group volunteers and aims to respond to your inquiry within five business days.
Missions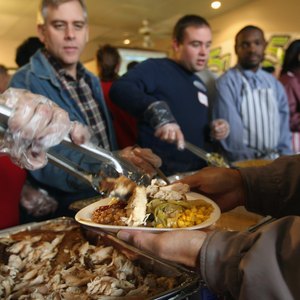 •••
SeanPavonePhoto/iStock/Getty Images
The Atlanta Mission is a charitable organization that offers a variety of community services, including feeding the homeless. It has two locations for women's services and two locations for men's services. Visit the website and choose the campus you're interested in to view food-service volunteer opportunities. The My Sister's House campus needs volunteers to help prepare and serve meals to residents on weekdays. Download a volunteer application, complete it and email it as an attachment to the contact person listed on the website.
Food Pantries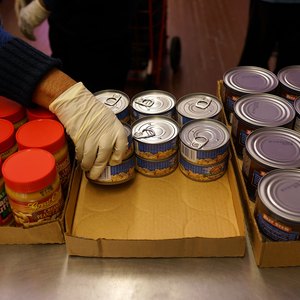 •••
SeanPavonePhoto/iStock/Getty Images
While soup kitchens serve hot meals, food pantries offer a variety of food and groceries to the homeless and other community members in need. Some duties you may perform in a food pantry include taking inventory, reporting stock levels and helping assemble food boxes. The Sullivan Center, Midtown Assistance Center and Feed the Hungry Foundation are just three organizations that run food pantries in Atlanta.
References
Writer Bio
Ainsley Whitley is a contributing writer for various branded properties that together attract more than 280 million readers seeking influential content. Whitley's articles have appeared in various print and online magazines, including "GQ," "Details," "Southern Living" and "Cooking Light."