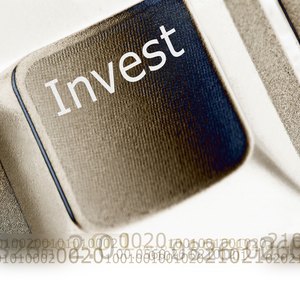 •••
Hemera Technologies/AbleStock.com/Getty Images
Comparing pink sheets and the OTC -- or over the counter -- markets is like comparing doughnuts and a doughnut shop. You get one in the other, meaning you'd find pink sheets in the OTC markets. This comparison has been the traditional way of describing the relationship for many years. Pink sheets and OTCs have evolved over time, but one thing has not changed: Stocks listed in the pink sheets belong to companies that are lacking in one way or another.
Pink Sheets
In the early 1900s, the National Quotation Board wanted to impose order on stock in companies that lacked the information necessary to be listed on the New York Stock Exchange. Stock prices in such companies were inaccurate and often listed too infrequently. The NQB gathered such stock quotes and listed them weekly on sheets of pink paper. These sheets no longer exist in their original form, though the term survives and is used to describe stocks with poor financial reporting habits.
OTC
Stocks that would be listed on the pink sheets lack the wherewithal to be on a large trading platform and are therefore traded "over the counter." Market makers, firms that have an inventory of a company's stock, often use OTC markets to sell stocks at a given price as opposed to having the stocks only available through brokerage houses. Today the Over the Counter Bulletin Board, or OTCBB, operates the modern equivalent of the pink sheets. It was created as the result of the Penny Stock Reform Act of 1990, which mandated that the stock prices of these usually smaller companies be listed electronically and quickly, within 90 seconds, to be exact.
OTCBB
The OTCBB requires a company on its rolls to file financial reports with the U.S. Securities and Exchange Commission or with its banking or insurance regulators. If a company fails to do so, it can be kicked off the OTCBB. A company in this situation does have the option to move to the privately held OTC Markets Group Inc.
OTC Markets Group
The OTC Markets Group is not registered with the SEC or the Financial Industry Regulatory Authority, which operates the OTCBB. The stocks on its lists are often thinly traded, from small companies or from foreign companies with different financial reporting standards. The Markets Group has its own standards and categorizes stocks into three categories: the QX group, which has the highest level of reporting standards; the QB group, where companies regularly report to a regulatory agency of some sort; and the pink group, which is open to all companies no matter their reporting status.
References
Writer Bio
Based in Mattapoisett, Mass., Jason Perez-Dormitzer has been an award-winning journalist and editor since 1995. His work has appeared in "American Banker," "Taunton Daily Gazette," "The Standard-Times," "Brown (University) Medicine" and the "Providence Business Journal," among others. He holds a B.A. in journalism from Rutgers University.