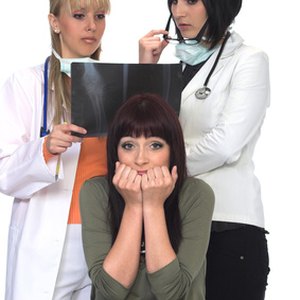 There are many public and private assistance programs available to those with mental disorders. Some of the grants are for job training and education addressing a wide range of mental illnesses, including schizophrenia, bipolar disorder and alcohol and drug abuse addictions. Some pharmaceutical companies offer direct assistance for medications needed by low-income mentally ill individuals who have no health insurance. There is also Social Security Disability Insurance (SSDI) provided federally, but the process to qualify can take several years.
Federal Grants
There are few grants available directly from the federal government for the mentally disabled. Most of the grants awarded through the National Institutes of Health, the Department of Health and Human Services and the Department of Housing and Urban Development are targeted to specific local private nonprofit agencies or governmental bodies (usually counties). The application for assistance must be made through the local administering body. A search of the registry for direct federal grants for mental disorders produced no results for direct aid in 2010. It is recommended you check with your county social services agency, which likely has funding or funding opportunities at its disposal. Simultaneously apply for SSDI.
Private Grants
There are numerous private sources of help for individuals with mental disorders. Most of them, however, are education-based. One that is not is the Viola W. Bernard Foundation. Since 1968, the foundation has awarded annual grants focused on supporting the psychological health of children and their families. The foundation awards grants totaling $200,000 annually emphasizing the psychological health of children and families, usually within the context of larger programs in community psychiatry.
Schizophrenia and Bipolar Aid
One of the better known scholarship sources is the Lilly Reintegration Scholarship. It is aimed exclusively at those currently receiving treatment for schizophrenia or bipolar disorder and working to re-integrate themselves social and work environments. Usually, it requires demonstration of current participation in social organization members, part-time work or volunteering. The scholarships support high school General Equivalency Diplomas and college and post-graduate studies.
University of Delaware
Students with physical learning disabilities, including dyslexia and ADHD, may qualify for scholarship assistance from the University of Delaware. The college is one of several that offers specialized instruction for mentally challenged or mentally ill students. Hearing- and mobility-challenged applicants are urged to apply, as well. The school targets students with various mental and physical disabilities that are not being served or are under-served by conventional programs but show educational promise. If your disability is autism, the Eden Services' Charles H. Hoens Jr. Scholars Program offers a $1,000 scholarship to autistic individuals accepted to a post-secondary school or vocational or trade school. The scholarship can supplement aid offered by the University of Delaware or other vocational training school.
Medication Assistance
Despite large pharmaceutical companies often portrayed as demons and as one of many driving forces behind the high cost of health care, most of the major manufacturers provide medications to uninsured people with just about any mental disorder. The National Alliance on Medical Illness has put together a list of major companies and the drugs they offer to low-income patients with no medical insurance. See the link under References in this article.
References
Writer Bio
Chuck Ayers began writing professionally in 1982, breathing life into obituaries, becoming a political and investigative reporter at a major East Coast metropolitan newspaper. He now freelances and is a California communications and political consultant. He graduated from American University, Washington, D.C., with degrees in political science and economics.