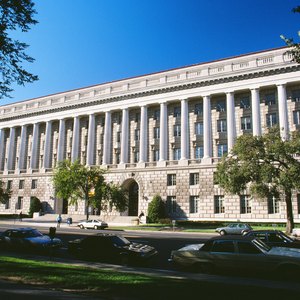 •••
Glowimages/Glowimages/GettyImages
Over 150 million Americans received a tax refund in 2017 with the average payment equaling $2,895. Tax refunds can help with bills, buy a used car to get around and even fund a family vacation. Once you complete your tax form, you'll see whether you owe money or are getting a refund. For refunds, you may want to know when you can expect to receive the money. There are a few factors that determine the answer such as whether you request a refund in the form of a check or direct deposit.
The General Rule
Most years, taxpayers are required to submit their taxes by April 15th, although the date fell on the 17th for the year 2018. If you want to receive your tax refund early, and you have all your documents ready, you can submit the return around January 29th when the IRS begins accepting returns. Some e-file programs, such as TurboTax, may allow you to submit the return even earlier, although the IRS won't accept it until the scheduled start date. From the date of acceptance, you can generally expect to receive your refund within three weeks. Keep in mind that you'll need to add in travel and processing time for returns that are mailed in.
Checking on Your Refund
The IRS does provide a handful of ways to check on the status of your tax refund. You can use the IRS's "Where's My Refund?" tool available on the IRS.gov website or by downloading the IRS2Go app to your mobile device. You can also call the IRS at 800-829-1954 to check. The IRS updates the information in its system once every 24 hours, but the initial information won't be available until 72 hours after you first e-file or four weeks after you submit your return via the U.S. Postal Service. Be prepared to provide your Social Security number, your filing status and the amount of your refund so the IRS can look up your return. If checking online, once you hit "submit," you'll receive one of the following three responses: Return Received, Return Approved or Return Sent.
Refund Options
Taxpayers have more options than simply waiting for a paper check to arrive in the mail. Perhaps the most popular choice is direct deposit. Once the IRS tool lets you know the refund is on its way, you can expect the money to show up in your bank account within three to five business days. If you want your refund two days faster, consider the relatively new option of having the money placed on the prepaid American Express Serve card. Jackson Hewitt reports that the refund may even show up on the card the same day it is sent by the IRS.