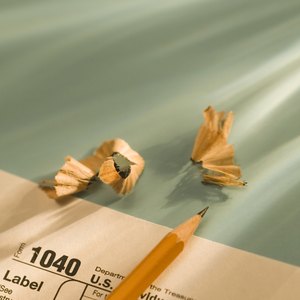 •••
Comstock Images/Stockbyte/Getty Images
When you file your federal income tax return, your goal should be to submit an accurate return to the IRS without having to file amended forms. Despite your best efforts, however, mistakes can happen. If you have made an honest mistake on your tax return, you may be required to pay any additional sum of money required by the IRS in addition to a late payment penalty. If you have committed tax fraud, however, more serious penalties will likely be coming your way.
Making Mistakes vs. Committing Fraud
The Social Security number on the tax return is incorrect
Computation error on a paper return
Numbers from Forms W2 or 1099 are transcribed incorrectly
Taxpayer received additional W-2 or 1099 forms after filing an income tax return
Income tax return doesn't have necessary schedules or documents attached
Attempting to claim deductions for the wrong tax year
Making a claim for expenses without receipts
Tax fraud is a different situation entirely and tax evasion penalties can be severe. It occurs when taxpayers deliberately try to avoid paying their fair amount of income tax. In cases of tax fraud, the IRS must prove it occurred. Some examples include:
Failing to file a tax return
Under-reporting income earned
Over-reporting expenses deducted from income
Claiming nonexistent dependents
Tax Return Mistake Penalties
If you make a mistake on your federal taxes, you may have to pay two types of penalties. Any additional taxes that you owe must be paid along with a penalty because they were not paid on time. The IRS charges a separate penalty if you didn't file your income tax return on time. The position is slightly different in 2020, as coronavirus tax relief legislation has postponed most federal tax filing and payment deadlines, and the extension applies automatically to all tax payers.
The penalty for late payment is ​5 percent​ of the unpaid taxes, per month, after the original due date. Interest grows until the tax bill is paid. By law, the maximum amount the IRS can charge for interest is ​25 percent​ of the tax bill.
When the return is ​more than 60 days​ late, you are charged a penalty for late filing. The IRS charges a minimum penalty of ​$210​, so if you owe less than $210, you are charged the full amount of your unpaid federal income tax as the penalty for late filing. The IRS calculates the penalty for late filing as up to ​5 percent​ of the amount of unpaid taxes per month to a maximum of ​25 percent​ of the amount owed. If you owe late payment and late filing penalties, the maximum amount you are charged is ​5 percent​ of the amount owed per month.
When You Find Mistakes
If you make a mistake on your income tax return and it involves calculations, the IRS will probably correct the mistake for you. In a situation where documents or schedules are missing, the IRS sends a letter that asks for the missing paperwork.

You can request that the IRS amend your federal tax form if you realize you made a mistake on your return. Send an IRS Form 1040X, Amended US Individual Income Tax Return, by regular mail to the IRS and include the original federal tax form you are amending along with the previously filed forms or schedules that the IRS must update due to the changes. If it's a 2019 tax return, the IRS offers a new electronic filing option for amendments.
Penalty Relief for Reasonable Cause
The IRS considers penalty relief in instances where a taxpayer does not pay the tax that is due because of what the IRS categorizes as "reasonable cause." This may include death, serious illness, incapacitation, natural disaster, and other reasons listed on its website. The taxpayer is required to supply supporting evidence of the reasonable cause. If approved the IRS removes the penalty, but interest accrues on any unpaid tax until it is paid.
References
Writer Bio
Jodee Redmond is a freelance writer, blogger and editor who has been working full-time for over 15 years. She is a graduate of Centennial College and has worked as a tax consultant and a legal assistant. Her previous experience and boundless curiosity is a distinct advantage when writing about such varied topics as income tax, insurance, commercial property, business, construction, addiction, freelance writing and more.