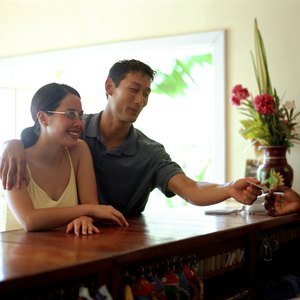 •••
Creatas/Creatas/Getty Images
Booking a hotel often requires a credit card to secure your reservation. If your hotel of choice has a policy that requires a credit card for a reservation, ask pertinent questions to learn how the hotel handles your credit card information.
Hotel Reservation Policies
Hotels have two types of reservations -- guaranteed and confirmed reservations. A guaranteed reservation requires that you give the hotel a credit card number to guarantee that you'll pay for at least one night of your stay. This form of reservation holds a room for you regardless of how late you check in. If you miss check-in completely, the hotel still charges your credit card for the room. With a confirmed reservation, you may or may not need to give a credit card number, and the hotel promises to hold a room for you until a specific time. If you don't check in by the specified time, you aren't required to pay for the room, but it may not be available for you, either. For a confirmed reservation, the hotel may request a credit card number to verify your ability to pay for the room, but you won't be charged for it without checking in.
Making Payment
When you make your reservation, ask about making a final payment with an alternative form of payment. You might wish to use a different credit card or pay with cash. Most hotels allow this adjustment.
References
The Frequent Traveler's Guide; Alexander Anolik and John K. Hawks
Writer Bio
Kathryn Hatter is a veteran home-school educator, as well as an accomplished gardener, quilter, crocheter, cook, decorator and digital graphics creator. As a regular contributor to Natural News, many of Hatter's Internet publications focus on natural health and parenting. Hatter has also had publication on home improvement websites such as Redbeacon.