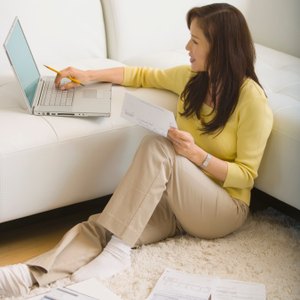 •••
Brand X Pictures/Brand X Pictures/Getty Images
You may have heard by now that T-Mobile and Sprint have merged. While the move is being called a merger, the reality is that Sprint is being added to the T-Mobile family. While this may mean better access to 5G through a joint effort between the two companies to create the best 5G network in the country, you may have some questions about how to handle your bills if you're a current Sprint customer.
Will the merger impact how you pay your Sprint bill? Take a look at what you need to know about managing your Sprint account now that Sprint is part of T-Mobile.
Payment Options for Sprint Customers
While T-Mobile acquired Sprint in April of 2020, at the time of this writing there has yet to be a full migration of bill payment over to a new platform for existing Sprint customers. That means that you should still be paying your bill using the Sprint portal. While it's certainly possible that T-Mobile will create a new payment system in the future, it appears that they're keeping payment "as is" to avoid making things any more confusing for Sprint customers than they have to be.
Sprint actually offers a variety of ways to pay your bill. The good news for anyone who tends to cut it close with payments is that most methods actually process your payment within minutes.
Pay Online through My Sprint
Sprint still allows you to pay your bill manually online at Sprint.com. With this option, you can either pay your bill on the day it's due or schedule a future payment. You simply need an existing Sprint account you can use to log in to make a payment. Payments made online using your Sprint account post within ​15 minutes​.
Enroll in Sprint AutoPay
Sprint has an AutoPay program that ensures you'll never be late on a payment again. Once you're enrolled, your AutoPay payments are processed on your due date. When enrolling, you provide a debit card or credit card number or info on your bank account where payments will be pulled from every month for your automatic payment. Don't forget that similar auto pay options are available for everything from credit cards to student loans. It's a great option for avoiding late fees or dings on your credit report if you have a habit of forgetting to log in to pay bills online.
The only thing to remember any time you use auto pay is that you'll need to update your Mastercard, Visa or any other credit card if it reaches its expiration date to avoid getting charges rejected.
Pay Using the My Sprint Mobile App
If you want to get your data usage money's worth out of your data plan, the Sprint app allows you to pay your bill from your phone without the need to log in using a name or password just to make a payment. Payments can be made through the app using options like AutoPay and Apple Pay. All payments made through the app are processed within ​15 minutes​.
Pay at a Sprint Store
If you can't get online to make a payment with your preferred payment method, Sprint accepts in-person payments at its brick-and-mortar locations. All payments made in person at Sprint stores are processed within an hour. Just keep in mind as you search online for locations near you that all Sprint stores are now branded as T-Mobile stores.
Use an Express Payment
This somewhat secretive option may not be something you've ever heard of before. Sprint actually offers an option called the "express payment" that allows you to pay your bill online without signing into an account. This might be a good option if you can't remember your password when you're crunched for time because your bill is due today.
However, this option is mostly used by people who want to cover a phone bill on behalf of another person. The Sprint express payment option allows you to pay someone else's Sprint bill with just a Sprint phone number or account number.
Pay by Phone
You can simply use your Sprint phone to pay your Sprint bill. Instead of calling a complicated phone number, simply dial *​3​ from the phone that's tied to your account to follow the prompts and pay your bill. This option is completely free as long as you complete your payment using Sprint's automated system. However, you're charged a ​$10​ support fee if you need to talk to a live representative to complete your payment. Phone payments process in ​15 minutes​.
Pay by Mail
To pay your Sprint bill by mail, send your payment with a copy of your phone bill to the company. If you've received an envelope with a paper bill, you can simply pop your payment in that envelope to send it off. You can also print out a copy of your current bill and use your own envelope to send in a payment.
Mailing a payment is the slowest option for paying your Sprint bill. Processing time for payments received by mail is ​seven calendar days​. Keep in mind that the time frame of ​seven days​ begins when Sprint ​receives​ your payment in the mail. You need to build in a few extra days for shipping and handling prior to your due date to avoid making a late payment if you go with the regular mail.
Paying Your Sprint Bill Now That Sprint has Merged with T-Mobile
For now, very little has changed about the way Sprint customers need to handle a cell phone bill. You can still pay your bill online, by mail, over the phone or any other way you've been successfully getting your payments in on time each month. Just keep in mind that this might change as the T-Mobile merger progresses.
References
Resources
Writer Bio
Adam Luehrs is a writer during the day and a voracious reader at night. He focuses mostly on finance writing and has a passion for real estate, credit card deals, and investing.