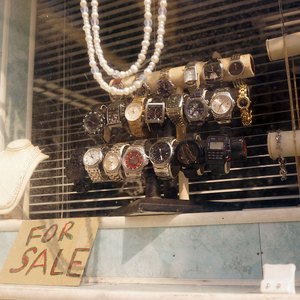 •••
Spencer Platt/Getty Images News/Getty Images
When money is short and you need quick cash, pawning an item to get money may be the answer. The pawn shop loans you money, using your valuable item as collateral. Once you pay the loan and interest back within the allotted time, your item is returned to you. If you don't return to pay for the item, you lose the item, however, your credit score is not affected. The interest rate you'll pay will be much higher than what you'd pay for a conventional bank loan.
What to Bring
Just about anything can be pawned, including jewelry, collectibles, electronics or a car or boat. Check with the pawn shop to find out what they typically accept as collateral. You also need to bring identification. Some shops also require you to give a thumb print and provide a copy of your driver's license.
Setting Up the Loan
The pawn shop evaluates your item and then determines what it will pay. You may try to bargain a higher amount. The shop explains the length of time you have to repay the loan and the interest you will be charged. While the interest rate is regulated by the state, it varies, and can be as much as 25 percent a month. According to Fox Business, usually the smaller the loan, the greater the rate of interest. The length of time also varies. For instance, in Washington State, the basic agreement is for 90 days.
Signing on the Dotted Line
If you accept the pawn shop's offer, plan to sign a contract. Before signing, verify all of the fees you'll be paying. For instance, the shop may charge a lost ticket fee if you cannot produce the ticket when you're ready to pay back the loan. The shop may also charge storage fees for larger items. You'll also sign a waiver that explains what happens if you don't pay back the loan and that the shop has the right to sell your item. You're then given a pawn ticket which you must bring back to the shop when you to pay back your loan and retrieve your item.
Getting a Good Price
You won't get full value for your pawned item since the shop needs to sell it if you don't come back to repay the loan, and they want to make a profit. Some items command more money at different times, depending on market conditions. For instance, when gold prices are high, you'll get more money for gold jewelry, but keep an eye on metal prices, as they fluctuate daily. Bringing an official appraisal that shows the value of your item may help you get the best price.
Research First
Before you go to the pawn shop, check with the Better Business Bureau and online review sites to review any complaints about the store. Before you decide which pawn shop to approach, find out if they fully insure items so you'll be reimbursed by their insurance in the event your items are stolen.
References
Writer Bio
Nancy Wagner is a marketing strategist and speaker who started writing in 1998. She writes business plans for startups and established companies and teaches marketing and promotional tactics at local workshops. Wagner's business and marketing articles have appeared in "Home Business Journal," "Nation's Business," "Emerging Business" and "The Mortgage Press," among others. She holds a B.S. from Eastern Illinois University.