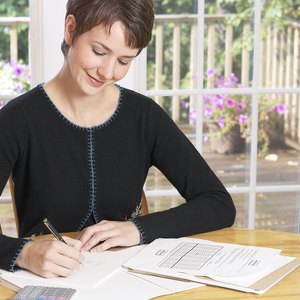 •••
Photos.com/AbleStock.com/Getty Images
Past-due accounts eventually turn into collection items. Collection information can be reported on your credit report for a period of seven years. Collection items can damage your credit by decreasing your credit score, making you more of a credit risk in the eyes of lenders. In certain situations you can have this derogatory information removed from your credit file; however, timing is important.
Negotiate with your creditor. Whenever you have a collection item on your credit report, the best time to get a creditor to remove it is before you pay it. Collection items can remain on your credit report for seven years. Items will remain on your file if the creditor takes no action. Ask the creditor to remove the collection item as a condition of paying the balance in full. Some creditors will agree to this and others will not. It's completely up to the creditor.
Obtain the confirmation in writing. Make sure you receive written confirmation if the creditor agrees to have the information removed. A written document is proof that you have an agreement to have information removed from your credit report. All terms should be spelled out specifically. Find out how soon a request will be put through after the debt has been paid off. This should be included in your confirmation. Store this paperwork with your important documents for future reference.
Pay your debt. When you receive written confirmation from the creditor, send your payment in full. This will appear on your credit file as a paid collection. Make sure you keep a record of your payment as further proof. Once the creditor removes the collection item from your file, the entire trade line will disappear. A trade line records all the information from a creditor, including the creditor's name, balance owed, date account opened, date last paid, and pay history.
Order your credit report after 60 days. Waiting 60 days allows the creditor adequate time to remove the derogatory information. You can get a free copy of your credit report once a year from all three credit reporting agencies. Verify that the information has been taken off all three reports. To order a credit report go to annualcreditreport.com. Order by mail, phone, or online.
Follow up with the creditor. If the information has not been removed, contact the creditor to see if the request has been put through. They will be able to give you an approximate date of submission.
If inaccurate collection items appear on your credit report, you can dispute the inaccuracies with the credit reporting agencies.
References
Tips
If inaccurate collection items appear on your credit report, you can dispute the inaccuracies with the credit reporting agencies.
Writer Bio
Melvin J. Richardson has been a freelance writer for two years with Associated Content, and writes about topics such as banking, credit and collections, goal setting, financial services, management, health and fitness. Richardson has worked for several banks and financial institutions and gained invaluable experience and knowledge. Richardson holds a Master of Business Administration in Executive Management from Ashland University in Ashland Ohio.