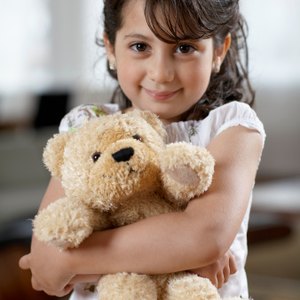 •••
Thomas Northcut/Stockbyte/Getty Images
Cleaning and donating old goods can de-clutter your home and get you a tax deduction for the fair market value of the item. Stuffed animal donations go to children in need, and help those with low incomes purchase toys for their kids at low princes. Kansas does not have many organizations that accept stuffed animals for donation, but it does have branches statewide that make donation possible across the state. Choose the most convenient option for you, then prepare your toys for donation.
Donation Tips
When donating stuffed animals, check over the animals to make sure they are in good condition, with no rips or tears. Discard animals that are worn, ripped or otherwise not acceptable for reuse. Use your own judgment on whether you would want your child to have the toy. Stuffed animals in too poor condition to donate to organizations may work as dog toys, so check with Kansas animal shelters to see if they'll accept them.
Cleaning
Clean stuffed animals before donating to ensure they can be put to use. Many stuffed animals can be machine washed on gentle cycle. Dry the stuffed animals in your dryer on low-heat setting; high heat can melt some stuffed animals.
Johnson County Med-Act
In Johnson County, Kan., the Johnson County Med-Act (jocoems.org) accepts stuffed animal donations. They limit donated animals to no more than 10 inches large and request that stuffed animals have no removable parts. The toy animals go to sick and injured children. Call Johnson County Med-Act directly to discuss your donation.
Goodwill Industries
Goodwill Industries also maintains thrift stores that accept toy donations in Kansas (goodwillks.org). Kansas locations include Arkansas City, Emporia, Garden City, Great Bend, Salina and Witchita. Bring donations directly to the nearest Goodwill store during open hours.
Salvation Army
Salvation Army thrift stores accept donations of toys, including stuffed animals (salvationarmy.org). Salvation Army thrift store locations in Kansas include Topeka, Wichita, Leavenworth, El Dorado, Mahnattan and Dodge City. Salvation Army posts no restrictions on the size of stuffed animal donations. Drop donations off at thrift stores directly, or you can schedule a pickup if you have many items.
References
Writer Bio
A successful website writer since 1998, Elton Dunn has demonstrated experience with technology, information retrieval, usability and user experience, social media, cloud computing, and small business needs. Dunn holds a degree from UCSF and formerly worked as professional chef. Dunn has ghostwritten thousands of blog posts, newsletter articles, website copy, press releases and product descriptions. He specializes in developing informational articles on topics including food, nutrition, fitness, health and pets.