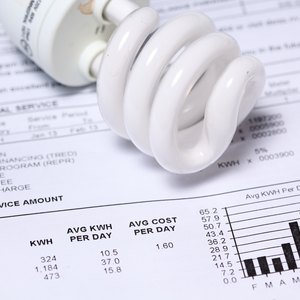 •••
Kameleon007/E+/GettyImages
If you need help paying your light bill in North Carolina, there are state and nonprofit organizations that can help you keep the power on in your home. Generally, you'll need a past-due electric or gas bill, proof of identity and documents verifying your income to apply for assistance. Emergency help is available even if you service has been disconnected.
Start With State Programs
The North Carolina Low Income Home Energy Assistance Program (LIHEAP) provides one-time payment assistance to households demonstrating financial need. The program is designed to assist with heating costs during the winter season. You can apply for assistance Dec. 1 through March 31 each year. The program is open to all North Carolina residents who meet the income restrictions based on household size. For example, a household of three can't exceed $26,546 per year.
North Carolina also offers the Crisis Intervention Program to assist households facing a heating or cooling emergency. The program pays up to $600 to alleviate the crisis, which may include paying a past-due balance plus re-connection fees. You may qualify for assistance more than once during the year.
Consider Utility Provider Assistance
Operation Round Up allows utility customers to help other residents in need. Participating utility providers give customers the option to round their bills up to the nearest dollar. The maximum contribution amount from a customer any month will be less than $1. Funds are placed in a the Operation Round Up trust, which helps individual customers. Grants are also given to nonprofit organizations that provide assistance to low-income residents. As of 2018, some of the participating utility providers include Four County Electric, Wake Electric and Carteret-Craven Electric Cooperative.
Dominion Power runs the EnergyShare program to help people in its service areas pay electric bills during the winter months. Funds are raised by customer contributions.
The amount of individual grants can vary, depending on the utility company. Contact your utility provider directly to inquire about programs they may offer.
Get Help From Charities
The nonprofit CatholicCharitiesUSA.org located throughout North Carolina, provides emergency assistance with basic needs, including electric bills. The charity helps people in need, regardless of their religion. The Salvation Army runs the Crisis Assistance program that helps with utilities, among other type of aid. The specific programs offered may vary.
References
Writer Bio
Jeannine Mancini, a Florida native, has been writing business and personal finance articles since 2003. Her articles have been published in the Florida Today and Orlando Sentinel. She earned a Bachelor of Science in Interdisciplinary Studies from the University of Central Florida.