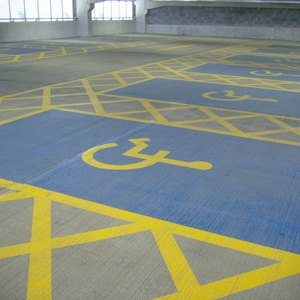 Donating a car to charity is not only an easy way to get rid of a car and get a tax write-off to boot, but it's also a way to help a disabled person get a badly needed set of wheels. Organizations that donate cars to disabled people will handle all the paperwork, any needed cleaning, inspections or repairs and many will even come and pick up the car from your home or workplace.
Vetmade
Vetmade Vehicle Donation Program collects and donates cars to disabled U.S. veterans. Donors residing in California's Los Angeles and Orange counties may call Vetmade or fill out an online for at their website (carsfordisabledvets.org) and the organization will send a tow truck to collect the vehicle. Vetmade offers a Materials Improvement Program to help donors maximize the tax write-off.
Purple Heart Service Foundation
Purple Heart Car Donation assists wounded and disabled veterans in obtaining cars, trucks, RVs and boats. It is a non-profit charity of the Military Order of the Purple Heart Service Foundation. It has handled over 500,000 vehicle donations in over 75 years. The organization also provides transportation for veterans to and from medical services.
Catholic Charities
Catholic Charities operates the Car Ministry program, which gives donated cars to developmentally disabled people, as well as to the poor and elderly. The purpose of the program is to aid these individuals in holding down work, conducting needed shopping and transporting their families where needed.
Arthritis Foundation
Rather than donate cars directly to the disabled, the Arthritis Foundation sells cars at charity auction, through its Autos for Arthritis program. Approximately 75 percent of the proceeds go back to the Arthritis Foundation to fund its other programs, with 25 percent going to Donation Wizard, the organization operating the Autos for Arthritis program on behalf of the foundation.
References
Writer Bio
Based in Maine, Sage Kalmus has written extensively on fitness, nutrition, alternative health, self-improvement and green living for various websites. He also authored the metaphysical fiction book, "Free Will Flux." Kalmus holds a Bachelor of Science from Boston University's College of Communication and is a Certified Holistic Health Counselor with special training in Touch-For-Health Kinesiology.