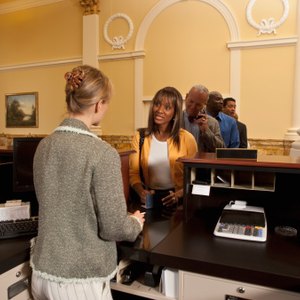 •••
Comstock Images/Comstock/Getty Images
When you open a new bank account, you want to get as much for your money as you can. Finding the bank with the highest interest rate and the lowest fees will help you keep more of your money. Opening an account at HDFC bank gives you the convenience of banking online combined with the ease of visiting your local bank. But before you open your HDFC bank account, you should make sure you have the identification, documents and information you need.
Visit Local Branch
Go to the HDFC website (see Resource). Click the drop-down box next to "Find Your Nearest" and choose "Branch."
Choose your city from the drop-down box and click "Display." Note the address and visit your local branch. Bring your checkbook, Social Security number and driver's license.
Speak to a bank representative and complete the savings account application. Enter your name, address and Social Security number. You will also need to provide your driver's license number for identification.
Write a check for your initial deposit and give it to the bank representative. Be sure to get copies of your opening documents and keep them with your records.
Open Account Online
Go to the HDFC Bank website (see Resource) and click the "Accounts and Deposits" link at the top of the page. Choose the type of savings account you want to open from the nearly 20 choices.
Click the "Online Application Form" link and provide the requested information. You will need to provide your name, phone number and email address.
Choose your nearest branch and city from the drop-down boxes and click "Submit." A representative with HDFC bank will contact you to complete the opening of your savings account.
Writer Bio
Based in Pennsylvania, Bonnie Conrad has been working as a professional freelance writer since 2003. Her work can be seen on Credit Factor, Constant Content and a number of other websites. Conrad also works full-time as a computer technician and loves to write about a number of technician topics. She studied computer technology and business administration at Harrisburg Area Community College.