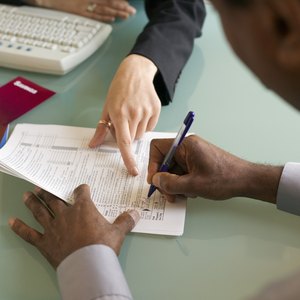 •••
Creatas/Creatas/Getty Images
Fidelity Investments is one of the largest and most well-known financial services firms. Although noted for its low-cost mutual fund lineup, Fidelity also offers a range of traditional banking services, including checkwriting. Strictly speaking, Fidelity doesn't offer a checking account. However, you can add checkwriting as a feature to a number of different types of Fidelity accounts. If you don't intend to use any of Fidelity's investment services, the Fidelity Cash Management Account, with added checkwriting, may serve your purposes best. Other accounts may provide additional services, but you may encounter fees or other limitations.
Choose the type of account you'd like. In addition to the basic Cash Management Account, you can also add checkwriting to the Fidelity Account, the Fidelity Fund Account, the Health Savings Account and traditional, rollover and SEP IRAs at Fidelity.
Ask if there are any fees attached to the account. Fidelity is known as a low-price leader, and their basic accounts typically carry no fees at all. However, even accounts that carry no standard maintenance fees may hit you with extra fees for certain actions, such as the transfer of funds or account closure. Fidelity may also assess additional fees at any time, with advance notice.
Understand how to access the money in your account. The most flexible cash account at Fidelity is the Cash Management Account, which provides you with an ATM card, a worldwide reimbursement of any ATM fees and free Fidelity Bill Pay. You can also walk into a Fidelity branch and withdraw funds at any time.
Research account minimums. Most Fidelity accounts, including the Cash Management Account, have no minimums to open the account. However, other accounts, such as the Fidelity brokerage account, require $2,500 to open.
Choose whether you want to open the account online or at a Fidelity office. Fidelity accepts account paperwork via either medium.
Complete account paperwork. If you already have a Fidelity account, the firm will already have the relevant information to open your account. Otherwise, you'll have to provide basic personal information, such as your name, address, date of birth and Social Security number. If you're employed, they'll also need your employer's name and address.
Select a funding option. Fidelity offers a range of options to fund your checkwriting account, including electronic funds transfer and the ability to scan and deposit checks using a smartphone app. You can also wire transfer money from your bank or mail in a check to make a Fidelity deposit.
Deposit money into the account. You can't begin to use your checkwriting services until you have money in your Fidelity account.
References
Writer Bio
John Csiszar earned a Certified Financial Planner designation and served for 18 years as an investment counselor before becoming a writing and editing contractor for various private clients. In addition to writing thousands of articles for various online publications, he has published five educational books for young adults.