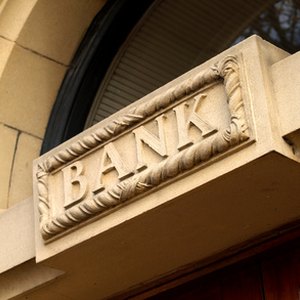 •••
bank image by Pefkos from <a href='http://www.fotolia.com'>Fotolia.com</a>
In order to use PayPal as a means to send and receive money online, your PayPal account must be connected to a checking account, debit card or credit card. PayPal uses a protocol to verify that bank accounts are legitimate. In order to pass the verification process, you must provide PayPal with the numbers to your account. If you don't have a bank account, then you'll need to open one.
Visit a local branch of the bank of your choice. Advise the bank representative that you would like to open a checking account. You also can opt to visit an online banking website if you do not wish to visit a local branch in person. Many banks, such as Bank of America, BB&T and Chase, will allow you to open a checking account online.
Complete the application for a new account. Provide the bank representative with a photo ID to prove your identity. If you are applying for an account online, you will have to enter information, such as your Social Security number and driver's license number to prove your identity.
Receive the account number for your new checking account. You also will need the routing number for the bank. Generally, the routing number and the checking account number will be listed on your new account paperwork. If you don't see the routing number, ask the bank representative for it.
Log into your PayPal account with your email address and password.
Click on the "My Account" tab that is near the top of the page. Select the "Profile" link.
Look underneath the "Financial Information" section. Select the "Bank Accounts" option.
Click on the "Add Bank" button.
Select the "Checking" option. Enter your bank's routing number and your checking account number into the appropriate boxes. Click "Continue."
Wait for PayPal to send the two small deposits to your checking account. The deposits can take up to two or three business days to appear. You will need to check your checking account deposit history in order to get the deposit amounts.
Log back into your PayPal account. Click on the "Confirm" option. You will then be able to enter the amount of the two small PayPal deposits that were sent to your checking account. Once you have confirmed the amounts you can start using your PayPal account.
References
Writer Bio
Faizah Imani, an educator, minister and published author, has worked with clients such as Harrison House Author, Thomas Weeks III, Candle Of Prayer Company and "Truth & Church Magazine." Her dossier includes JaZaMM WebDesigns, assistant high-school band director, district manager for the Clarion Ledger and event coordinator for the Vicksburg Convention Center.