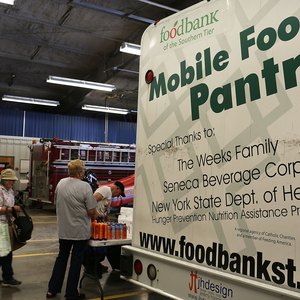 •••
Spencer Platt/Getty Images News/Getty Images
A food pantry or food bank provides economically disadvantaged people–including children–with wholesome food products. Nearly all communities maintain some type of food pantry program for those men, women and children in need. Funding for food pantries come from different sources, including government and nonprofit organizations. An individual or group interested in establishing or maintaining a food pantry needs to examine nonprofit grants available for such a program.
United Way
The national and local United Way organizations are involved deeply in funding and advancing the efforts of human service programs like a food pantry. The United Way offers a variety of different nonprofit grants for building a food pantry. The United Way in many locales offers start-up grand funding to assist an enterprise like a food pantry get its doors open. A basic program of the United Way is to provide annual grants to assist in maintaining programs in local communities, including food pantries. Finally, there are nonprofit grants available through many United Way organizations that are designed to assist a program like a food pantry that is facing an emergency financial crunch.
Food Pantry Support Agencies
Across the United States there are nonprofit organizations like The Food Pantry that are dedicated to ensuring that economically disadvantaged people are able to access healthy food. One of the objectives of these organizations is to provide grants to assist in organizing new food banks as well as to provide funding to sustain ongoing operations.
Religious Organizations
Many churches and other religious organizations dedicate a portion of their budgets to support community based human service programs, including food pantries. Although these organizations tend to give smaller grants, they also tend to make a long term commitment to a food bank program. For example, a church will provide a grant to cover all of the costs associated with providing food boxes to the needy one day a month.
Civic Organizations
Organizations like Kiwanis, Optimists and similar civic groups provide different types of start-up and sustaining nonprofit grants to projects like food pantries. For example, these organizations may elect to adopt a food pantry for a given year or agree to spearhead the establishment of such an agency. In the process, they provide grant funding and volunteer assistance to a particular food pantry program.
References
"Winning Grants Step by Step;" Mim Carlson & Tori O'Neal-McElrath; 2008
Resources
Writer Bio
Mike Broemmel began writing in 1982. He is an author/lecturer with two novels on the market internationally, "The Shadow Cast" and "The Miller Moth." Broemmel served on the staff of the White House Office of Media Relations. He holds a Bachelor of Arts in journalism and political science from Benedictine College and a Juris Doctorate from Washburn University. He also attended Brunel University, London.