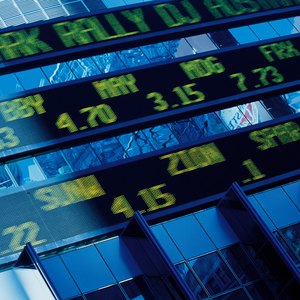 •••
Comstock/Comstock/Getty Images
The New York Stock Exchange ticker is any continually updating listing of prices and other information about securities traded on the New York Stock Exchange. Though the name "ticker" stems from 19th-century printing technology, a modern ticker is often a scrolling electronic board. In some uses of the term, it's an online utility that produces stock information.
Ticker History
Before the first stock tickers appeared in 1867, the only way to get "real time" data on prices at the New York Stock Exchange was to be physically present on the NYSE floor, observing as traders made deals and posted the latest price information. Tickers changed that. They used signals transmitted over telegraph lines to report the most recent price of each stock. The machines printed this information on long, continuous strips of paper, or "ticker tape," and the name "ticker" comes from the sound they made as they printed out the tape. Tickers could be found at brokerage offices, banks, newspapers and other places that needed up-to-date stock prices.
Modern Tickers
Ticker-tape machines saw nearly a century of use before they were replaced by electronic systems. The idea lives on in the scrolling stock-price displays at many brokerages, on financial news broadcasts and in places such as Times Square. A modern New York Stock Exchange ticker cycles through the stocks on the NYSE, giving the stock's ticker symbol, the current price and perhaps one or two other key pieces of information, such as the change in the price during the current day and the stock's "volume," or how many shares have traded that day. Many financial websites have no traditional ticker at all, but use the term to refer to applications that allow you to enter a stock's symbol and receive instant access to real-time and historical data.
Ticker Symbols
Early telegraph-based tickers had to produce as much information as possible as quickly as possible, so the financial industry devised a system of abbreviations that allowed every stock to be represented with only a few letters. These "ticker symbols" persist to this day. Some companies are readily identifiable by, and even synonymous with, their symbols. For example, the NYSE ticker includes "IBM" for International Business Machines and "GE" for General Electric. Some take a little more work to understand, such as "JNJ" for Johnson & Johnson and "MMM" for 3M. Some are fanciful: Transocean, which operates deep-sea oil rigs, is "RIG" on the NYSE ticker, and Southwest Airlines is "LUV."
NYSE Ticker Symbol Convention
At one time, all stocks on the NYSE ticker had to have symbols of three letters or fewer. This was a requirement of the system long used by regulators in which exchange-traded securities were designated by one to three letters, while those bought and sold on the Nasdaq exchange or over the counter had to have four or five letters. That system has fallen by the wayside, and the NYSE now allows four-letter ticker symbols, such as "SCHW" for the Charles Schwab Corp. and "DOLE" for Dole Foods.
References
Writer Bio
Cam Merritt is a writer and editor specializing in business, personal finance and home design. He has contributed to USA Today, The Des Moines Register and Better Homes and Gardens"publications. Merritt has a journalism degree from Drake University and is pursuing an MBA from the University of Iowa.