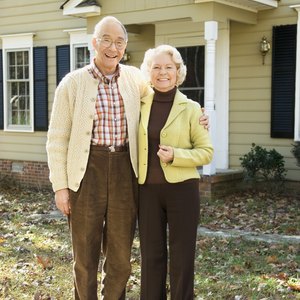 •••
Creatas Images/Creatas/Getty Images
Senior citizens in New Jersey can get help with home improvements through programs run by individual counties and cities and by investigating private sources of help through volunteer organizations. Although volunteer programs do not offer grant money, they do provide free labor and, in some cases, free materials. The state Department of Health and Senior Services, through local Area Agency on Aging offices, coordinates federal- and state-funded sources of aid for senior citizens, including home improvement grants, through an initiative known as "New Jersey Ease."
Local Programs
County and city governments fund programs that help senior citizens to repair and maintain their homes. Camden County, for example, offers the Senior Safe Home Program, which provides installation of ramps, hand rails and grab rails, repairs concrete sidewalks, porches and steps and offers other minor repairs to windows, doors and plumbing. Applicants must meet income requirements and have a verified disability. The city of Linden awards grants of as much as $5,000 to senior citizens with limited incomes. Qualifying repairs include replacing inefficient furnaces, outdated plumbing and electric wiring or installing new windows and doors. Applicants must own their homes, not be delinquent in their property tax and mortgage payments and meet income guidelines.
Federal Aid
Federal agencies make home improvement funds available directly to consumers or as grants to state and local agencies. The U.S. Department of Agriculture (USDA) Rural Development Program offers grants to homeowners in rural areas for repairs and improvements. To apply, your home must be in an area designated as rural by the USDA, you must be at least 62 years old and your income must be too low to qualify for a USDA loan or to enable you to repay the amount of a grant. The U.S. Department of Energy funds weatherization aid through local government and social service agencies such as community action programs. Aimed at low-income households, weatherization can include a number of alterations to your home, such as installing blown-in insulation and upgrading inefficient heating systems.
State Assistance
The state of New Jersey administers age-related funding for home maintenance through the Department of Health and Senior Services. The Safe Housing and Transportation Program, under the auspices of the Area Agency on Aging, provides home repairs and improvements primarily intended to eliminate health and safety hazards in the homes of the elderly. Priority is given to seniors age 75 and over who live alone and who are limited by disabilities or health conditions.
Private Organizations
Volunteer organizations such as "Tooling Around" in Woodbridge Township offer free home repairs to the elderly and disabled in their area. Volunteers provide needed services such as yard work, painting, caulking and general fix-ups. Local businesses donate money and supplies and recruit employees to volunteer. Chore Service in Bergen County uses volunteers to make small home repairs for residents who are at least 60 years old or disabled. Volunteers perform chores such as fixing leaky faucets, installing new electrical outlets or light switches, changing filters and batteries in household appliances, putting up and taking down storm windows and screens and installing safety devices such as smoke alarms and grab rails.
References
Writer Bio
Margaret Morris has a Bachelor of Arts in English with a concentration in creative writing from the University of Pittsburgh. She also holds a celebrant certificate from the Celebrant Foundation and Institute. Morris writes for various websites and private clients.