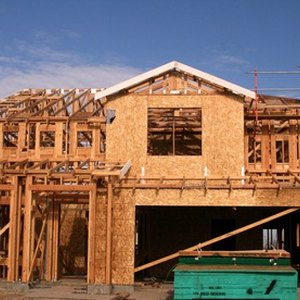 New homes often come with a warranty. This can be one of the features that attracts buyers to purchase new as opposed to pre-owned. A home warranty is a guarantee a builder will provide to a home buyer to repair or replace any faulty items within a specific time span after the purchase is complete. For instance, a dishwasher that breaks within the first year of home ownership would be covered and replaced by a builder warranty – at the builder's expense. However, to protect buyers from builders who cut corners to reduce costs there are laws regulating new home warranties.
Rules Vary By State
Every builder in every state is subject to new home warranty laws. These will vary from one state to another, however, most home builders carry similar warranties across the board. For example, KB Home will offer buyers a 10-year warranty covering structural warranties in their homes; most home builders will give you a one-year warranty for labor and materials and a two-year warranty plumbing and electrical defects as well as the longer structural guarantee.
The result is that the best parts of the warranty expire quickly, such as for your carpeting, tiles, paint, and roofing. If a builder does not adhere to the terms of the warranty, the consumer has the right to pursue a damage claim with the state entity regulating the new home warranty policies.
Express and Implied Warranties
There are two types of warranties: expressed and implied. An expressed warranty is what is offered to the consumer in writing and is normally presented in the form of warranty paperwork completed with the new home contract. An implied warranty is a gray area inasmuch as it can be defined as something a salesman or a construction worker promised that was not conveyed in writing. Builders do not have to honor an implied warranty, however, they may do so in the interest of good customer service. Under state laws, the only applicable warranty is one that is expressed in writing.
Watch Out for Overlapping Coverage
When purchasing a new home, one benefit can be overlapping warranties. Above and beyond what a builder offers, most roof companies offer consumers an extensive warranty between 10 and 50 years depending on the materials and location, and most window manufacturers have a 10-to-30-year warranty as standard. These items are not covered by the builder, nor are they regulated by state laws. However, the overlapping coverage can be a benefit to the consumer. It is the responsibility of the builder to inform the buyer of the additional warranty coverage. The builder must also supply the warranty information on additionally covered items as well as user manuals and maintenance schedules.