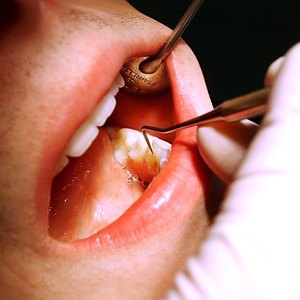 Nevada Medicaid provides medical and dental coverage for low-income residents. The state directly reimburses health care providers for services recipients receive. You may use Medicaid in conjunction with other insurance, but Medicaid is meant to be the payer of last resort. Apply for Medicaid through your local office of the Division of Welfare and Supportive Services.
Eligibility
The state determines enrollment eligibility based on income and application category. General eligibility categories include children, pregnant women, families with dependent children, disabled adults or persons age 65 or older. Rules for assessing income and assets vary by category. A caseworker from the Division of Welfare and Supportive Services will evaluate your financial eligibility and determine what programs you may participate in, if any. Special rules apply for nursing home residents and for disabled children living at home.
General dental benefits
Adults are generally eligible only for emergency dental care. Pregnant women who qualify for full Medicaid may also receive limited periodontal benefits. Children may receive full dental coverage as well as limited orthodontia. All recipients must receive care from a dentist who accepts Nevada Medicaid to have services covered. Dentists require prior approval from Nevada Medicaid for some benefits.
Children
Nevada Medicaid's early periodic screening diagnosis and treatment (EPSDT) program covers dental checkups for children. Also known as "Healthy Kids," the program covers children under 20-years-old. EPSDT services include a complete dental exam and cleaning twice a year, or more frequent dental care and follow-ups as recommended by your child's dentist. Fluoride treatment and sealants also are covered for children, as are follow-up treatments for problems found during exams.
Health Maintenance Organizations
Nevada Medicaid recipients who live in Clark or Washoe counties must enroll in a health maintenance organization (HMO). Each county has two HMOs. You will automatically be assigned to an HMO if you do not choose between the two.
Coverage
You will receive a card once you are enrolled in Nevada Medicaid. You must show the card to your dentist each time you visit. Then your provider will send the bill for the care you receive to Nevada Medicaid for payment. You may need to pay part of the costs of some services or provide additional information for coverage.
Prior Authorization and Appeals
Nevada Medicaid must approve certain services or treatments before they are provided. Your dentist is responsible for requesting prior authorization when needed. Call the phone number on the back of your Nevada Medicaid card if your request for services is denied and the provider has not been authorized. You also may ask your dentist to resubmit the request with additional documentation stating why the service is medically necessary. You may request a fair hearing to appeal a denial of coverage as well.
References
Writer Bio
Jim Molis started his writing career in 1994 as a freelancer for New England newspapers. As a journalist, he won awards as a writer and editor for business publications, including "The Bond Buyer," "Atlanta Business Chronicle" and the "Jacksonville Business Journal." He has a Bachelor of Arts in communication from Stonehill College in North Easton, Mass.