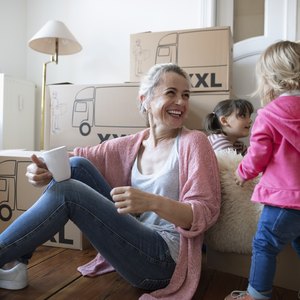 •••
Hero Images/Hero Images/GettyImages
You can find a great deal on a home with Fannie Mae's help. Through HomePath.com, Fannie Mae sells homes they own that have gone into foreclosure. You can negotiate a Fannie Mae home by making an offer, but as with any home purchase contract, you may lose out to someone who is willing to pay more.
About Fannie Mae Homes
Backed by the federal government, the Federal National Mortgage Association provides funding to lenders to help consumers get the home loans they need. Through that funding, Fannie Mae serves as the backer, taking responsibility if the house falls into foreclosure. When that happens, Fannie Mae puts the property for sale, advertising it on Homepath.com.
To look for a Fannie Mae home, go to HomePath.com and input the city and state where you're interested in buying. You'll then be shown all the available Fannie Mae-owned properties in that area. Although there are plenty of buying Fannie Mae foreclosure tips out there, you may not find much guidance when it comes to negotiating a good price on the homes you see.
Making an Offer on HomePath
Even if you find the perfect home for sale on HomePath, you can't submit an offer with the click of a button. Fannie Mae makes it clear that you need to work with a real estate agent to make an offer. You don't have to use any type of special real estate professional to put an offer on a property you've found. Just find one you're comfortable working with and point them in Fannie Mae's direction.
If you're interested in a property, your agent will have to register as an agent on HomePath. There is a blue Make an Offer button with each listing that your agent can use to submit a purchase offer. At that point, they can begin negotiating Fannie Mae HomePath property with the listing agent, who will then accept or reject the offer.
HomePath Property Price Negotiation
Often among buying Fannie Mae foreclosure tips, you'll find there isn't much optimism about negotiating. Typically, you'll only be able to get a property for a lower price if there's something wrong with it. In other words, if a property is in serious disrepair, Fannie Mae may be willing to accept a lower price, but you'll have to put money into the home, so it may not be as good a deal as buying a less damaged home at full price.
One of the biggest deterrents against negotiating Fannie Mae HomePath property is simply the competitive nature of the bidding process. This is especially true if the home is located in a seller's market. If there are multiple offers, you may find that a buyer offering a higher amount than the asking price gets the deal.
Negotiation With First Look
Although, typically, negotiation isn't a part of the purchase plan, Fannie Mae has something called the First Look program, which lets qualifying homebuyers view and purchase properties before investors can make an offer on them. This program is designed to connect homebuyers looking for a primary residence with an affordable home. Once the homes are open to investors, they're more likely to be turned into rentals or flipped at a higher price, shutting out the very homebuyers the program was designed to help.
You'll see eligible properties listed with the First Look logo during the first 20 days they're on the HomePath site. During this time, your agent can make an offer and have a greater chance of getting a lower price since you won't be competing against investors. However, you'll still be competing with other buyers, which include others who plan to make it a primary residence, public entities and select nonprofits, so you may still find that your lower deal loses out to someone offering more.
Financing for HomePath Homes
Although you may not have much luck with HomePath property price negotiation, you may find that the access to financing makes it a great deal. They offer low down payments, conventional financing with private mortgage insurance and flexible underwriting. As with any mortgage loan, you'll have to qualify, but since financing for foreclosed homes can typically be more challenging, having Fannie Mae work with you can be a great way to get into a lower-priced home.
In addition to financing options, you may qualify for state and local assistance programs to help you get into the home you want. There are special financing programs available to homebuyers who qualify. Fannie Mae also helps homebuyers get into homes by reducing the earnest money requirement to only $500. For public entities buying Fannie Mae homes with public funds, the earnest money requirement is waived altogether.
HomePath Purchase Considerations
Before you buy a HomePath property, you should be aware of the risks. Not only is the system not set up for HomePath property price negotiation, but Fannie Mae makes it clear that each property is sold "as is." That means you take the risk that there may be issues with the home that cost you extra money to repair.
But one benefit of buying a home off HomePath versus purchasing a foreclosed home on the courthouse steps is that you can order a property inspection before you finalize the purchase. In fact, Fannie Mae encourages you to do just that. Your inspector will alert you to any issues, at which point you can decide whether to make an offer or walk away. It can't hurt to put in an offer lower than the asking rate to see if Fannie Mae will accept it, especially if you've noticed serious issues.
Closing Cost Assistance
In lieu of negotiating Fannie Mae HomePath property, you may want to consider saving money in other ways. One way is through Fannie Mae's HomePath ReadyBuyer program, which offers closing cost assistance to those who complete a homeowner education course. This interactive class is available online, making it easy to take in your free time.
It's important to note that the ReadyBuyer course isn't free. You'll pay a $75 registration fee, but this amount counts toward the closing costs on any property you buy through the HomePath program. Your agent will submit the Certificate of Completion as part of the initial offer documents uploaded to the HomePath Online Offers section of the site.
Taking the course will also qualify you for a reduction of up to 3 percent on closing costs. Your certificate also helps you meet the education requirements attached to the HomeReady mortgage loan, which offers payment flexibility and a 3 percent down payment option.
Fannie Mae Foreclosure Tips
One of the most important buying Fannie Mae foreclosure tips is to find a real estate agent who can help you out. You'll need an agent to put an offer on a property anyway, and someone who is qualified will be able to look out for your best interests as you search for the perfect home. Before you start any home search, you should take some time to find out exactly how much you can afford. This will give your agent an idea of what to consider when searching for properties on HomePath.com.
Since you can search the HomePath site at any time, you should regularly keep an eye on it. Nudge your agent as soon as you see something you're interested in purchasing. At the same time, don't limit your search to HomePath properties. If you're looking for affordable homes, you can consider other foreclosures and homes that are priced to sell in your area.
References
Warnings
Foreclosed properties attract scams. Avoid unsolicited offers of "help" from third parties.
Avoid buying homes that have been "trashed" by previous owners. Home renovations are best left to pros.
Writer Bio
Stephanie Faris has written about finance for entrepreneurs and marketing firms since 2013. She spent nearly a year as a ghostwriter for a credit card processing service and has ghostwritten about finance for numerous marketing firms and entrepreneurs. Her work has appeared on The Motley Fool, MoneyGeek, Ecommerce Insiders, GoBankingRates, and ThriveBy30.