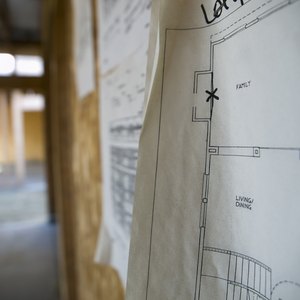 •••
David H. Wells/Photodisc/GettyImages
Whether you're in the market for your first home, dream home or investment property, purchasing a HUD foreclosed property could be a wise decision that saves you lots of money. When a government-insured loan is defaulted upon, HUD will pay off the loan and then attempt to sell it through an auction process. But not all HUD homes are a good deal, so you need to do your homework to be sure you know what you're getting yourself into.
The U.S. Department of Housing and Urban Development owns HUD properties. These are properties that HUD purchased as a result of a foreclosure after a previous owner defaulted on their loan.
What Is a HUD Foreclosed Home?
A HUD property is one that is owned by the U.S. Department of Housing and Urban Development, or HUD. However, HUD homes generally start their journeys as homes purchased using FHA (Federal Housing Authority) loans. In the event the previous homeowner defaults on the loan, HUD pays off the loan, takes possession of the property and attempts to sell it in a bid to recuperate its money.
According to the agency's website, a HUD home "is a 1-to-4 unit residential property acquired by HUD as a result of a foreclosure action on an FHA-insured mortgage. HUD becomes the property owner and offers it for sale to recover the loss on the foreclosure claim."
While doing your research on HUD homes and foreclosures, you may run across the terms REO, or real estate owned, single and multi-family properties. Although these terms can initially cause some confusion, REOs are simply homes that have been foreclosed upon and are now owned by a bank, lender or government agency, such as HUD.
It is a common misconception that HUD homes and foreclosures are synonymous. But, differences between the two exist – a foreclosure can be any home owned by a bank, governmental agency or lender, whereas HUD homes are specifically owned by the U.S. Department of Housing and Urban Development. HUD-owned homes and standard foreclosures also have different buying processes.
Finding HUD Homes
Before you can purchase a HUD home, you need to find one, and the first place home buyers looking to purchase a HUD home will need to stop is the HUD Home Store. This site lists all HUD real estate owned, or REO, properties in a central location that you can search for a bargain, but if you find one, you cannot bid on it yourself.
Registered real estate brokers must use HUD Home Store to place bids to purchase a HUD property on your behalf as home buyers cannot bid on a HUD home themselves. You can, however, start the search for a property on your own using the site's search parameters such as zip code or state, then contact a registered broker to bid on it for you.
Listings on the HUD Home Store will generally have photos as well as the asking price of the property. The listings will also have a deadline for submitting offers, but because HUD homes are sold via auction, HUD will then review the bids and determine if any of the submitted bids are acceptable or not. If no bids are acceptable, then the deadline is extended until an offer is accepted; the asking price may also be lowered if a suitable offer is not made.
Is it a Good Idea To Buy a HUD home?
Although HUD homes provide excellent opportunities for investment and residence, the process isn't quite the same as a conventional home purchase you may be familiar with, and there are some pros and cons that you need to be aware of. One of the biggest risks to purchasing HUD homes is that they're sold "as is."
This means that any problems – such as a leaky roof or faulty electrical wiring – will be your responsibility to take care of out of your own pocket, so it's vital for prospective HUD home buyers to obtain a home inspection before putting in a bid on the property. The home inspection will inform you of anything that needs to be repaired so you can (and should) factor these improvements into your bid on the property.
Being sold "as is" does not, however, mean that the home is in a total state of disrepair. HUD assigns a field service manager to the home to secure and maintain it while it is unoccupied and under the agency's control. Some cosmetic repairs or enhancements may even be done on the property prior to the start of the bidding process and some HUD homes are completely ready to move into. But, it is still wise to get a home inspection just so you're not in for any surprises later down the road.
You can find gems with HUD homes, and they make a viable choice for home ownership if you want to get a decent home or investment property at or below market value, so don't let HUD's "as is" policy deter you, but do make sure to exercise due diligence so you don't get more than you bargained for.
How Do You Qualify for a HUD Home?
When it comes to HUD homes, potential buyers who plan to occupy the home as their primary residence are given priority over investors or those looking for a second residence. This is a distinct advantage over other foreclosure listings as investors will often pay for foreclosed properties in cash which can push buyers looking to finance the property out of the market. You do not qualify for a HUD home per se, but you do have to first obtain financing for the property as HUD does not offer mortgages.
If you have cash to pay for the home outright, then you can do that, but many people opt for obtaining a conventional or FHA loan. Before making a bid on a HUD property, prospective home buyers should first pre-qualify for financing from a lender or bank. Pre-qualifying will let you know how much home you can afford to purchase as well as give you options for financing. FHA loans make it possible for low- to middle-income home buyers to get into a home with as little as 3.5 percent down, while conventional loans often require a larger down payment.
HUD Home Incentives and Programs
HUD also has several incentives and programs that can make getting into your dream home a little easier. According to the agency's website, certain homes "located in designated Revitalization Areas are available at a reduced sales price to law enforcement officers, teachers, firefighters, emergency medical technicians, nonprofits and local governments." This is known as the Good Neighbor Next Door program.
HUD can also help home buyers with some fees associated with the purchase of a home such as escrow and closing costs. In certain situations, HUD will pay up to 3 percent of the closing costs, but you must include this in your bid for the home. Closing fees can sometimes keep buyers from being able to afford a home, so this help can mean the difference between getting into the property or not.
Before taking advantage of any of the available HUD programs or incentives, it's best to check with your registered real estate broker. Your broker can help you not only find properties, arrange for home inspections and obtain financing, she can also help you determine if you are eligible for any special programs or assistance.
References
Writer Bio
Tara Thomas is a Los Angeles-based writer and avid world traveler. Her articles appear in various online publications, including Sapling, PocketSense, Zacks, Livestrong, Modern Mom and SF Gate. Thomas has a Bachelor of Science in marine biology from California State University, Long Beach and spent 10 years as a mortgage consultant.