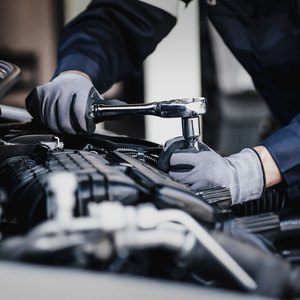 •••
Kunakorn Rassadornyindee/iStock/GettyImages
Trying to go cheap on your car repairs can lead to future headaches that just aren't worth it. Instead of thinking of the word "cheap," think "less expensive" to ensure you start with quality but pay less. Learning how to find an affordable body shop and negotiate the best deal will help you get your car repaired without overpaying and without having more problems later.
Contact Your Insurance Company First
If you're insured, talk to your insurance company to make sure you don't negotiate any deals that could void your insurance later. For example, if decide not to make all of the repairs that your insurance covers or you try to have the repair shop use a technique or part that saves money, if you have another accident in the future, your insurer might ask to see your previous repair invoice. If you didn't have the repairs made to the insurer's specifications, they might not cover the new damage or even injury claims.
Your insurance company can also give you referrals to repair shops they work with and let you know if you can (or must) use after-market (or non-manufacturer) parts. You might even qualify for a diminished-value check.
Talk to Your Dealership
You don't have to use your dealer's repair services and can often get less-expensive repairs by going to a national franchise or independent repair shop. However, this might void part or all of your vehicle purchase or lease warranty. At the very least, the repair shop might not use parts that keep your warranty active. Talk to your dealership to find out what repairs might affect your warranty.
Get Competitive Bids
Instead of doing an online search for "cheapest auto body shops near me," get quotes from several shops in town to get the best deal. The best way to negotiate with auto repair shops is often to get competitive bids. That way you can say, "This other shop will use these parts, do these repairs and charge me this much."
Many auto body shops will offer to match competitor prices or give a slightly lower price, which you won't know about if you don't have competitor bids.
Independent vs. Chains
An independent vehicle repair shop can often give you a lower price than a franchise shop or dealer repair department. This is because they don't have the high overhead and marketing costs, or have to pay a percentage of their revenues to a corporate office. On the other hand, chains and dealers can get parts more cheaply because of the national buying power of their parent company. Make sure to get quotes from each type of repair business.
Contact Friends and Coworkers
Use email and your social media accounts to ask your friends, neighbors and coworkers if they have any recommendations. Some might offer to do simple repairs for you, such as replacing a broken tail light. Others might have connections or know of a good place to get a bid.
Ask About Aftermarket Parts
If you are getting a Ford or GM car repaired, you don't need to use Ford or GM parts. Using aftermarket parts (which fit makes and models across most brands) can save you money. Make sure you research the parts (using an online search) any repair shop recommends, advises Master Mechanic.
Look Into Barters
Do you have a business that could provide an independent repair shop with some valuable marketing? Are you a designer and could you give the shop's website an upgrade? Can you swap the services of your landscaping or painting company? Look into barters that might offer each of you a win-win.
Ask About Providing Parts
While repair shops usually get their parts more cheaply than you can get them at a retail auto parts store, they often mark them up. If you have access to high-quality auto parts at a lower-than-retail price (usually online), ask about the shop providing the labor to put your parts on your vehicle, recommends Direct Auto Insurance.
Check Customer Reviews
Make sure to check online reviews before you agree to work with any auto body shop. Look for independent reviews, not reviews posted on the shop's website. Check the website of the Better Business Bureau to find out if the shop has any complaints.
References
Tips
Be polite when negotiating.
Warnings
Not all shops are willing to negotiate prices. If you encounter such a shop, keep shopping around until you find one that will do the repairs for a price you are comfortable with.
Writer Bio
Steve Milano has written more than 1,000 pieces of personal finance and frugal living articles for dozens of websites, including Motley Fool, Zacks, Bankrate, Quickbooks, SmartyCents, Knew Money, Don't Waste Your Money and Credit Card Ideas, as well as his own websites.