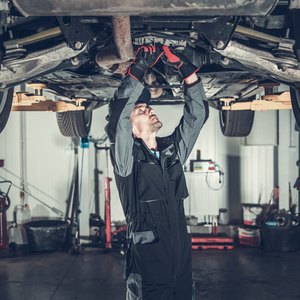 •••
welcomia/iStock/GettyImages
Car ownership can be expensive. You'll not only pay for the vehicle itself, but there's the cost of car insurance, maintenance and repairs if anything stops working. Car insurance will cover repairs that are associated with a collision, but if your vehicle malfunctions due to normal wear and tear or defects, your insurance likely won't apply.
What Is Car Insurance?
Insurance protects your high-value items against damage or loss. You spent thousands of dollars for your vehicle, so chances are, you'll want to take out an auto insurance policy to protect your investment. If your car is stolen or damaged, you can then file a claim to get the cost of those repairs covered.
But an insurance company has to protect its own interests, too. There are strict limits to what types of damage and loss will be covered by your policy. Your repairs will need to be related to an approved incident such as theft, a collision or a weather-related event in order to be covered under your policy.
How Car Insurance Works
When you sign up for a car insurance policy, you choose the amount of coverage, as well as what events will be covered. Less coverage means lower premiums, but you may find you're not fully protected if you have an incident. You may also find that setting a higher deductible reduces your premiums, but when you file a claim, you'll have to pay that money out of pocket before your insurance kicks in.
Car insurance does not protect you against manufacturer defects in any vehicle you purchase, nor does it help you out if you need your breaks replaced or your engine dies. In some cases, a warranty can help with that, but warranties are limited, as well. You'll sign a contract for both insurance and warranties, so make sure you're clear on exactly what is and isn't covered before you finalize things.
Types of Auto Insurance Coverage
To find out exactly what's covered if your vehicle is damaged, look at your insurance policy. If you have something called liability coverage, you're covered for damage you do to other property. That means if you hit another vehicle or a mailbox, only the cost to repair those items are covered.
To cover your own vehicle, you'll need something called collision coverage. This pays to repair damage to your vehicle if you collide with something else. To ensure you're covered if your vehicle is stolen or damaged due to the weather, you'll need to add comprehensive coverage to your policy.
Car Repairs After Collision
If you have an accident and it's your fault, your car repair should be covered by your collision insurance. If the accident is the fault of another party, that person's insurance will cover it. You'll file a claim and follow the insurer's instructions for getting car repairs.
Assuming you have collision insurance coverage, this is how the process should work:
After taking down the preliminary information, the insurer will refer your claim to an adjuster.
An adjuster will give you an estimate for the repairs.
If you feel the amount is too low, you can negotiate with the adjuster.
Once you accept the estimate, you'll sign a release authorizing the payment and get your car repaired.
If you have a deductible, your deductible amount will be subtracted from the estimated cost of the repairs. This is your out-of-pocket cost.
Car Repairs After Damage
Collisions aren't the only way your damage can be paid for by your insurer. If you have comprehensive insurance on your car insurance policy, your insurance may cover damage from events like:
Falling objects
Vandalism
Damage caused by wildlife
Natural disasters
Fire
Weather events
It's important to note, though, that in some cases your deductible may be higher than the cost to repair the damage. Encountering a pothole, for instance, could leave you with only a couple of hundred dollars in vehicle bills. If your deductible is $400 or $500, filing a claim won't help with the repairs.
Car Repairs Due to Defects
The best test as to whether insurance covers your vehicle repairs is whether those repairs were caused by an outside event. That event could be a collision with an object, a weather occurrence or another unexpected accident. If your vehicle starts malfunctioning on its own, you'll be responsible for the repairs.
If your issues are due to defects in the vehicle itself, it's not your insurer you'll notify. Instead, take a look at the warranty that came with your car when you bought it. Many new and certified pre-owned vehicles come with a manufacturer's warranty that covers it up to a certain point. This could be a number of years or a specific mileage.
Car Repairs Due to Wear
At the time you purchased your car, you might have bought an extended warranty. If not, you can buy it at a later date. An extended warranty will cover repairs and replacement parts to your vehicle, but these warranties are usually covered. It might be bumper-to-bumper or it may cover only the powertrain.
There is something called mechanical breakdown insurance that can mimic what you'd get from a warranty. Insurance companies offer these, and in some cases, the plan even covers issues that a warranty won't. Compare the offerings and prices of both extended warranties and mechanical breakdown insurance policies to see which one gives you the best deal.
Service Contracts and Repairs
When you buy a car, the dealership may offer something called a service contract. This can also be presented as an extended warranty. A service contract outlines the services that the dealership will provide free of charge on the vehicle you're purchasing.
A service contract can act as car repair insurance in a sense, but it still won't cover all repairs. Look at the list of described coverages and if something's not listed, assume you'll have to pay for it. Repairs like new brakes and tires typically aren't included under a service contract.
Warranties and Routine Maintenance
Whether you're buying a new car or one with previous owners, routine maintenance is a required part of vehicle ownership. Auto insurance and warranties won't pay for essentials like oil changes and tire rotations. It also won't pay to replace your car's battery when it runs out of juice.
Don't feel pressured to take your vehicle to the dealership every time you need maintenance. Neither the dealership nor your insurer can require you to take your car to a particular business. However, if you take your car to a repair shop and they do faulty work, you may find issues that arise that aren't covered under your warranty.
If you have car insurance, check your policy to see what's covered. You'll need to have collision insurance if you want repairs due to an accident with an object or vehicle covered. If you want weather events or road hazards included, you'll need comprehensive coverage. Even then, your covered repairs will be limited to only damage that's approved by your insurance provider as directly related to the claim you filed.
References
Resources
Writer Bio
Stephanie Faris has written about finance for entrepreneurs and marketing firms since 2013. She spent nearly a year as a ghostwriter for a credit card processing service and has ghostwritten about finance for numerous marketing firms and entrepreneurs. Her work has appeared on The Motley Fool, MoneyGeek, Ecommerce Insiders, GoBankingRates, and ThriveBy30.