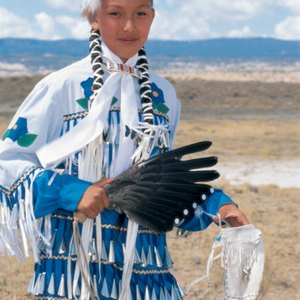 •••
Liquidlibrary/liquidlibrary/Getty Images
Tribally enrolled Navajo children are eligible for certain benefits through the tribal and federal governments. Some benefits exist by virtue of the fact that the Navajo tribe is federally recognized. Federal recognition bestows limited benefits such as access to the Indian Health Service (IHS). The Navajo Nation does not supply tribal members with monthly or yearly per capita payments, as the tribe is one of the poorest in the United States. Poverty on the reservation is rife due to its lack of a strong reservation economy and its rural location.
Indian Health Service
The Indian Health Service (IHS) operates hospitals and clinics on and near the Navajo reservation. Tribally enrolled children can receive health care, including medical and dental care, at no cost. IHS medical facilities in the Navajo area include Chinle Comprehensive Health Care Facility, Fort Defiance Indian Hospital, Four Corners Regional Health Center and Tuba City Regional Health Care Corporation. Navajo area IHS facilities strive to offer culturally competent services. As such, health professionals are trained to avoid eye-to-eye contact and to understand the Navajo perception of time.
Navajo Nation Scholarship
The Navajo Nation offers college scholarships to children who are tribally enrolled. The purpose of the scholarship is to provide funding for eligible Navajos in pursuit of higher education. The Navajo Nation Scholarship is intended for tribal members who wish to use their education for the benefit of the tribe.
Navajo Relief Fund
The Navajo Relief Fund provides assistance to Navajo children and adults by working with reservation partners. The Fund offers goods and services, including baby care essentials, community classes and pantry packages; pantry packages include nonperishable food items. The Fund also provides counseling for children and young adults, disaster relief and holiday meals.
Navajo Child Special Advocacy Program
The Navajo Child Special Advocacy Program (NCSAP) was founded to provide support for Navajo children who are victims of sexual abuse. The NCSAP's mission is to facilitate "intervention, criminal investigation, prosecution, and treatment of child sexual abuse." The NCSAP offers therapy and support services for Navajo children and family members. Agency locations include Tuba City, Chinle, Fort Defiance, Gallup and Shiprock.
References
Writer Bio
Andrine Redsteer's writing on tribal gaming has been published in "The Guardian" and she continues to write about reservation economic development. Redsteer holds a Bachelor of Arts in history from the University of Washington, a Master of Arts in Native American studies from Montana State University and a Juris Doctor from Seattle University School of Law.