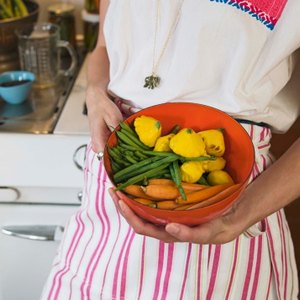 •••
Jupiterimages/Brand X Pictures/Getty Images
Formerly known as food stamps, the Supplemental Nutrition Assistance Program (SNAP) is a federal program that enables qualified people to access the aid they need for food. Each state determines the requirements for its residents. However, the amount of income applicants earn is one of the most influential factors.
So, how much can you make to get food stamps in Alabama? Well, it depends. For that reason, you need to know the current income limit for food stamps in Alabama and other requirements you must meet to be eligible for the program. In Alabama, SNAP is usually referred to as the Food Assistance Program.
Basic SNAP Eligibility Requirements
You must be a resident of Alabama who is also a U.S. citizen or legal permanent resident alien.
All members of your household, unless exempted, must be working or registered to work.
Your current bank balance must not exceed ​$2,000 or $3,000​ if you share the household with a person with a disability or ​60 years​ or older.
You must meet the income limits set for Alabama SNAP applicants.
The Income Limit for Food Stamps in Alabama
The income limit for food stamps in Alabama depends on the household size and earned and unearned income.
1. Household Size
It is worth noting that a SNAP household may be different from your regular definition of the term.
People who rent a room in your home or adult children who buy their own food count as members of your household for SNAP consideration purposes. Also, all children ​under 22 years​ count as household members even if they are responsible for their own food.
In addition, elderly people ​over 60​ or those with disabilities are household members so long as you buy or make food for them or share food responsibilities. Otherwise, they are not considered as part of your household for SNAP benefits calculation purposes.
2. Earned and Unearned Income
Both earned and unearned income factor into the decision that goes into determining SNAP eligibility. Also, the program counts all these types of income from all sources.
Earned income is what you make while working, such as tips and compensation, while unearned income is what you get without actively working for it, including child support, unemployment insurance and Social Security, among others.
Remember, you may be allowed some deductions, such as medical expenses, before your income is considered. So, take advantage of them.
3. Household Assets
Typically, you get to own some assets without worrying whether they will affect your eligibility for SNAP benefits. Excluded resources include your primary home and the lot it is on, household goods and vehicles, among others.
Based on federal rules, you can own assets worth ​$2,500​ and still qualify for food stamps. But if you have an elderly household member over 60 or someone with a disability, your household asset limit increases up to ​$3,750​.
4. Household Income Limits
Alabama, just like all other states, sets income rules you must adhere to when applying for food stamps. Generally, you have a gross income limit of ​130 percent​ of the federal poverty level. The limit applies to SNAP applicants with resources beyond the set limits.
However, what you can earn per month or year varies from one household to another, depending on how many people are in your family.
Currently, you can earn anywhere from ​$16,744 to $58,058​ for households of between one to eight people. For any person over the eight-person limit, you can earn an additional ​$5,902​ per person and still qualify for SNAP. These amounts are yearly limits earned before taxes.
For example, if you are a family of two, the maximum income you can earn each year is $22,646. Beyond that limit, you are unlikely to qualify for SNAP. On the other hand, if you and your spouse have two children, you can earn $34,450 per year before taxes and still get food stamps in Alabama.
To get foods stamps in Alabama, you can apply by visiting your local Department of Human Resources offices or online via the MyDHR.gov website. And when you qualify, you will get your Alabama EBT card in about seven business days. And then, you can use it to pay for food assistance.
References
Writer Bio
I hold a BS in Computer Science and have been a freelance writer since 2011. When I am not writing, I enjoy reading, watching cooking and lifestyle shows, and fantasizing about world travels.