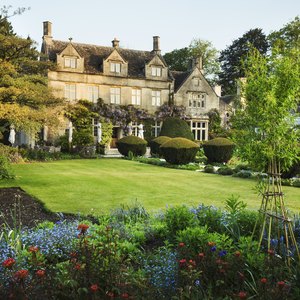 •••
Mint Images/Mint Images RF/GettyImages
For more than 120 years, what is arguably America's greatest stately home has reigned over Asheville, North Carolina. The Biltmore House, a 250-room French Renaissance castle, was the brainchild of architect Richard Morris Hunt. Frederick Law Olmstead, who designed New York City's Central Park, is responsible for Biltmore's classic landscape. When it opened as the private country retreat of George Washington Vanderbilt II, Biltmore spanned more than 30,000 acres. Today, the surrounding park consists of "just" 8,000 acres, but the house and the acreage are major tourist attractions in this section of western North Carolina. No expense was spared in its construction, and that's obvious from the vantage point of the 21st century. Could a house like Biltmore be replicated today? Perhaps, if the owner were willing and able to spend more than $150 million on the project. While Biltmore is no longer a private home, it is still privately owned by Vanderbilt's descendants and remains the largest privately owned home in the United States.
At the time of its construction, the Biltmore mansion cost nearly $6 million to build. By today's standards, this would be approximately $1.6 billion in costs.
Six Years of Construction
From 1889 to 1895, approximately 1,000 people daily worked on the construction of Biltmore. Most of the workers lived nearby, and in the area in front of the structure, small factories sprang up for the needs of the house and the employees. A private rail track spanning the three miles from the Asheville depot to Biltmore delivered the marble, limestone and other materials laborers could not create on site. Vanderbilt paid $50,000 to have the short rail line installed. Biltmore's foundation alone cost $400,000.
$6 Million in 1895
An article about Biltmore published in 1895 stated that the building, not quite complete, was expected to cost $6 million when finished. The author wrote that work at Biltmore was estimated to cost $1,000 per day, and work went on every day save Sunday. The purchasing power of $1,000 in 1895 is equivalent to about $28,045 in 2018. That means it would cost about $168 million to build a house as grand as Biltmore today.
Today's Value
How much is Biltmore, now a tourist attraction and not a private home, worth today? Asheville's local paper, the Citizen Times, asked that question of Buncombe County appraisers in 2017. Their answer: The house is currently appraised at $37 million, while the land on which it sits is valued at $64 million. That's 2,194 acres, not 8,000 acres, although that land still belongs to the Biltmore Co., but not all of it is open to the public. There are other valuable properties on the estate, including the Inn at Biltmore, worth $47 million, and the Village Hotel, at $34 million. As the appraisers told the newspaper, there are no "comps" for a house like Biltmore. One appraiser said there's no other house like it in America, but it may be possible to find a similar chateau outside the U.S. Since appraisers can't make a value decision based on comps, they use the property's revenues to determine value. They also consider the fact that it is unlikely Biltmore will ever serve as a private home again, and the house, while full of splendors, has a great deal of "functional obsolescence" within.
References
Writer Bio
A graduate of New York University, Jane Meggitt's work has appeared in dozens of publications, including Sapling, Zack's, Financial Advisor, nj.com, LegalZoom and The Nest.