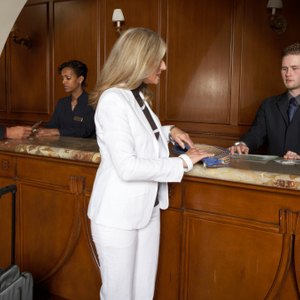 •••
Chris Clinton/Photodisc/Getty Images
At the end of a long day on the road, one of the first professionals travelers encounter is a hotel front desk clerk. The clerk holds the key – or key card – to not just a room for the night, but answers to questions about Internet connectivity, meals, onsite amenities and luggage transportation. While desk clerks offer their guests a bevy of choices from room size and style to floor number, they also face a number of decisions themselves, including location of work and category of employment.
Up Front Figures
Nearly a quarter of a million front desk clerks staffed their stations at large chains and boutique hotels across the country. The U.S. Bureau of Labor Statistics calculated a $9.58 hourly median wage for the 222,540 desk clerks in its Occupational Employment and Wages survey in May 2010. In that time period, the highest 90th percentile annual wage for the profession rose to $14.15, while the 10th percentile salaries were $7.73.
Top State Salaries
Desk clerks in Hawaii earned the highest salaries, with mean hourly wages of $16.50. Employers in the District of Columbia paid their desk clerks an above-average $14.61, while desk clerks in New York also earned a higher than average $13.18. Both Nevada, at $13.12 and Massachusetts, at $12.77, offered above the median hourly wages for their desk clerks.
Checking In
Only New York earned a spot on both the BLS list of highest paying state salaries and largest per-capita employers; New York was fourth on the list. California, which paid hourly mean rates of $11.66, employed the most hotel desk clerks per capita. Florida placed second and also had slightly higher than average wages of $10.24. Texas, in third place, and Georgia, in fifth place, had below-average salaries for the desk clerk field, at $9.01 and $9.12 respectively.
By Industry
While the traveler accommodation field topped the BLS list as the industry employing the most desk clerks, its slightly above average salaries of $10.26 didn't place it within the Bureau's top-five highest paying categories. Desk clerks working in facilities support services earned the most, at $14.50 per hour, followed by those employed by civil and social organizations, earning $13.63. Real estate agents and brokers paid desk clerks $12.19 per hour.
References
Writer Bio
Fionia LeChat is a technical writer whose major skill sets include the MS Office Suite (Word, PowerPoint, Excel, Publisher), Photoshop, Paint, desktop publishing, design and graphics. LeChat has a Master of Science in technical writing, a Master of Arts in public relations and communications and a Bachelor of Arts in writing/English.