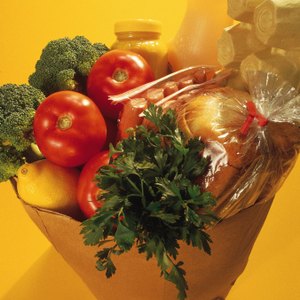 •••
Comstock/Comstock/Getty Images
Grocery baggers, also called courtesy clerks, load items that customers have purchased into bags, and sometimes take the bags to the customer's car. They also return unwanted items to shelves. Some grocery baggers are responsible for picking up litter around the front of the store inside and outside, for returning carts from the parking lot to the store, and for stocking shelves. Most grocery baggers make at least $9 per hour as of 2011.
Broad Category Salary
The U.S. Bureau of Labor Statistics classifies grocery baggers in the category of hand packers and packagers. This occupation includes some warehouse and loading dock workers, employees who pack items for shipment, and those who wrap gifts. The average salary as of May 2009 for this occupational classification was $10.47 per hour, or $21,780 per year. The median pay rate, or the number in the exact middle of all the salary figures for this occupation, was $9.36 per hour, or $19,470 per year. The largest number of hand packers and packagers worked in grocery stores, earning an average wage of $9 per hour, or $18,720 per year for those who work full-time.
Grocery Bagger Salary Range
The median salary for grocery baggers in particular as of May 2011 is $20,659 per year for those who work full-time, according to Salary.com. That translates to about $9.90 per hour. The middle 50 percent make $19,276 to $22,258 per year, or about $9.30 to $10.70 per hour. The bottom 10 percent have wages of $18,017 per year and lower, or about $8.70 per hour and lower. The top 10 percent earn $23,713 per year and more, or $11.40 and higher.
Geography
Salaries for grocery baggers vary a great deal with geography. In Helena, Montana, for example, full-time baggers have a median annual salary of $18,593, and in Naples, Florida, $18,708, ranking both cities in the bottom 25 percent nationwide. Grocery baggers in Iowa City have a median annual salary of $19,585; in Houston, Texas, $20,494; in Albany, New York, $21,114; in Providence, Rhode Island, $21,713; and in San Jose, California, $24,791. The San Jose salary ranks in the top 10 percent nationwide.
Outlook
Persons interested in grocery store jobs should find many opportunities, according to the U.S. Bureau of Labor Statistics. Turnover is high because many workers use the jobs to make money while in school, or as an entry-level position before leaving for a higher-paying opportunity. Although self-service checkouts are increasing, many shoppers still like having service provided by cashiers and grocery baggers.
References
Writer Bio
Shelley Moore is a journalist and award-winning short-story writer. She specializes in writing about personal development, health, careers and personal finance. Moore has been published in "Family Circle" magazine and the "Milwaukee Sentinel" newspaper, along with numerous other national and regional magazines, daily and weekly newspapers and corporate publications. She has a Bachelor of Science in psychology.