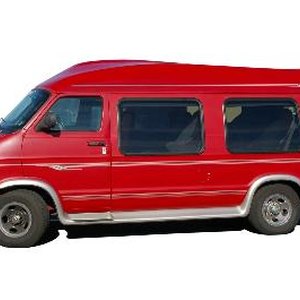 •••
VAN ref 2331 image by Marie-Thérèse GUIHAL from Fotolia.com
The price of a Class B motor home can vary from tens of thousands of dollars to more than a hundred thousand dollars, depending on its manufacture, features and specialized components. Typically, a Class B motor home looks like a van or a camper van from the outside. It is built on either a minivan or a full-size van chassis that has been adapted to accommodate a recreational vehicle, also known as an RV.
Definition
A Class B motor home is factory built to be an RV. In the RV industry, dealers are likely to refer to refer to customized vans for RV use as camper vans or van conversions, and to refer to units manufactured as RVs as Class Bs. Consumers may not make such distinctions, using the terms "camper van" and "Class B motor home" interchangeably. As of 2011, Family Motor Coach Association reports that the price of a Class B motor home starts at approximately $42,000.
Typical Features
Like other RVs, Class B motor homes may have either a gas engine or a diesel engine, with diesel usually the more costly engine type. Unlike a regular van, the front seats may be designed to swivel so they can become living area seating. Some Class B motor homes include a roof that pops up so that during use for camping people can stand without stooping over inside. Since the entire motor home occupies the space of a van, space-saving features are a hallmark. The living accommodations inside a Class B motor home may include a small propane stove top with a burner or two, a dorm size refrigerator, a sink and limited counter space. The bathroom accommodations commonly include a space-saving, condensed "wet bath," a stall where shower and toilet fit into one enclosed, watertight space. Sitting and dining areas usually convert to a bed or two for sleeping. Fresh water storage is typically limited to about 20 gallons, with waste water storage far less. As of 2011, Costhelper.com, in its Class B Motorhome Camper Van Cost list, indicates, "Prices start at $40,000 -$80,000 for a new Class B motorhome/van conversion, depending on size (15'-26' long), type of roof extension and other amenities."
Expanded Features
Models have emerged that have luxury features and heavy-duty construction. Some have upgraded cooking facilities. Some include slide-out panels to expand the living area during camping. Some units have seating to accommodate eight people, and others will sleep four. Flat screen televisions with built-in entertainment centers turn the camper van into a luxury accommodation. For the 2011 model year, Airstream RV Source.com lists several luxury models of the Airstream Interstate, a 22-foot-long Class B motor home with a turbo diesel engine on a Mercedes-Benz chassis, at a price of more than $125,000.
Advantages
Class B motor homes, given their compact size, are usually easier to park and easier to maneuver than larger RVs. Some can fit in a standard garage. The vehicle can in many cases be serviced by a mechanic who is not an RV specialist. Depending on make, engine size and type, model, vehicle weight and type of driving, the units can get fuel mileage comparable to an ordinary family van.
References
Writer Bio
Arizona-based Mary Schultz has contributed articles about family, health, home improvement, agriculture and travel to newspapers and magazines. For over three award-winning decades as a marketing writer, Schultz has focused on technology, financial and insurance services and products, medical care, health and fitness, community heritage, tourism and charitable causes. She holds a Bachelor of Arts, honors English, from California State University, Northridge.