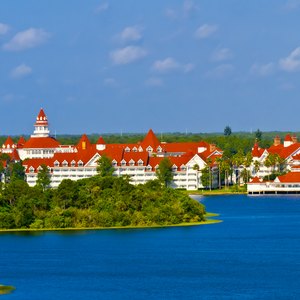 •••
Blaine Harrington III/The Image Bank/GettyImages
There are few places on Earth that deserve the designation of memory maker as the aptly named "Magic Kingdom." In fact, many children enjoy the memories so much, they grow up to take their own children there. But if you've been to ​Disney parks, you probably know it can be pretty expensive. There are some ways to save a little money, though. And, in the aftermath of COVID, you may find even more package discounts, favorable ticket prices and other perks that reduce the pricing for a visit to the Walt Disney Company properties. For up-to-date COVID info, be sure to check Know Before You Go.
Get the Timing Right
The best way to save on a Disney World vacation is to go during the off-season. The Walt Disney World Resort, as well as the parks, suffer from a drop in customers during certain times of the year. At one time, that was December, but the park seems to have drawn bigger crowds around Christmas in recent years.
If you're looking for Disney World Discounts and reduced crowds, consider going during the times of the year when kids are likely to be in school. September is typically a safe bet, as is early March. You'll want to work around spring and fall breaks since those timeframes tend to see heavier crowds, but if you're flexible about the dates, you can shop around for a good discount package.
Start with Disney
The first place to start for discounts at any Disney theme park is the Disney Parks special offers page. You can find deals on stays at Disney Resort Hotels and at Disney campsites. There's also information on special offers and military discounts for eligible military personnel.
If you're staying in one of the Disney resorts, also look into a Disney Dining Plan. This isn't always a better deal than paying out of pocket, but if you can time your visit for a week when free dining is being offered, you can save money. During COVID-19, dining plans and free dining were suspended, but they should return soon. With free dining, you'll need to stay in a hotel room at one of the Disney resorts that are participating in the promotion.
You'll also want to see what's being offered at the deluxe, as well as the moderate resorts and value resorts, to see if your travel dates match up with any promotions that will make your Disney experience all you hope for.
Be a Frequent Visitor
If you live in Florida or California, you might want to consider an annual pass in lieu of purchasing theme park tickets each time. This is especially valuable if you're near Orlando or Anaheim. Not only do annual pass holders get unlimited admission in Orlando, but they're also eligible for pass holder exclusives like dining discounts, special events and limited-time offers. Anaheim's annual pass, called an Annual Passport, gives you admission on select days, as well as access to special discounts and VIP events.
Florida residents also get discounted admission on Walt Disney World tickets. You'll save ​40 percent​ on a four-day ticket, ​30 percent​ on a ​three-day​ ticket or you can opt for a ​one-day​ ticket for slight savings. You do need to provide proof of residency, though, which means showing your photo ID, a mortgage statement or a bill. California residents don't get blanket discounts at the state's Disney parks, but there are often special passes for Southern California residents.
For non-locals who stay onsite multiple times a year, the Disney Vacation Club could be a good buy. You'll pay a monthly fee, which is currently ​$365​, but you can stay at the resort whenever you want. You'll also be able to stay in locations across the globe through the World Collection.
Leave the Park
You probably already realize this, but you don't have to stay on Disney property to enjoy the parks. You'll typically save money by staying at other Orlando- or Anaheim-area hotels and commuting in every day. Here are some tips to help you save money by staying offsite.
​Look for deals:​ If you're a member of AARP or AAA, track down any deals or discounts you'll get at local hotels, as well as discounts for buying park tickets through them. Costco vacation packages include nearby resort and hotel options. Make use of your FastPass when possible to make up for not having early or late access afforded to those staying at Disney properties. Explore the availability of park hopper access, too.
​Choose a vacation rental:​ You don't have to stay in a hotel. Check Airbnb and VRBO for great deals on homes near Orlando or Anaheim.
​Arrange transportation:​ Even if you're only a few minutes from the park, you'll need a way to get back and forth. If you're flying there, compare the cost of renting a car to using a rideshare service like Uber or Lyft. Some hotels will also shuttle you back and forth every day.
​NOTE:​ Although pandemic restrictions are lifting in Florida and California, it's important to check into COVID-related restrictions at the parks and local hotels. Currently, Disney COVID policies include requiring advance reservations, temperature checks and face coverings in public areas. With a little advance planning, you can ensure you're saving money while also lining up the perfect vacation.
Writer Bio
Stephanie Faris has written about finance for entrepreneurs and marketing firms since 2013. She spent nearly a year as a ghostwriter for a credit card processing service and has ghostwritten about finance for numerous marketing firms and entrepreneurs. Her work has appeared on The Motley Fool, MoneyGeek, Ecommerce Insiders, GoBankingRates, and ThriveBy30.