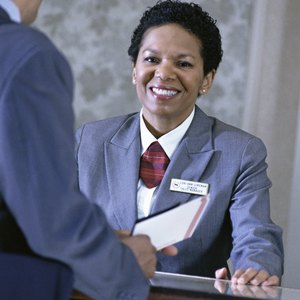 •••
Jupiterimages/liquidlibrary/Getty Images
Hotel front-desk clerks wear a number of hats, from greeter to problem solver to magician, making everything from room keys to gourmet food appear in the blink of an eye. Although the majority of front-desk clerks are employed within the traveler accommodation industry, average salary expectations vary widely, depending on both the location of the clerk's hotel of employment as well as the industry of employment itself.
Checking In
Standing at the ready to hand guests keys to their kingdoms were approximately 222,540 hotel front-desk clerks across the United States as of May 2010, when the Bureau of Labor Statistics completed its occupational employment study. The study found the range for hotel clerk salaries to be $16,090 at the 10th percentile, $19,930 at the median level and $29,440 at the 90th percentile.
High Occupancy
The traveler accommodation field employed hotel front-desk clerks at a rate of more than 10 times over all other categories combined, paying a slightly higher-than-average annual mean wage of $21,340. Recreational parks and camps employed the next-highest number of clerks, paying $20,990. Hotel front-desk clerks employed by facilities support services earned the highest salaries, with annual mean wages of $30,160. Clerks employed by civic and social organizations received the second-highest wages, at $28,340.
Salary to Capacity
Hotel front-desk clerks greeting visitors with "Aloha" earned the highest salaries, with Hawaii topping the BLS list, where clerks received annual mean wages of $34,310. On the other side of the country, clerks in the District of Columbia earned the second-highest wages, at $30,380. Employers in New York and Nevada were close for third and fourth place on the BLS list of top-paying states, with rates of $27,410 and $27,300 respectively. Massachusetts' front-desk clerks earned the fifth-highest wages, at $26,570.
Paging the Front Desk
Although it didn't place in the BLS top-five, California, where front-desk clerks earned above-average wages of $24,250, had the highest levels of employment in the profession in the country. Florida placed second on the BLS list of employment levels, also paying an above-average $21,290. High employment didn't always correlate to high salaries. The Lone Star state offered the third-highest employment level, but Texas front-desk clerk salaries dipped below the median at $18,750. New York, which was the third-highest payer, had the fourth-highest level of employment. Although Georgia offered the fifth-highest employment level, its annual mean wage of $18,970 fell just below the median.
References
Writer Bio
Fionia LeChat is a technical writer whose major skill sets include the MS Office Suite (Word, PowerPoint, Excel, Publisher), Photoshop, Paint, desktop publishing, design and graphics. LeChat has a Master of Science in technical writing, a Master of Arts in public relations and communications and a Bachelor of Arts in writing/English.