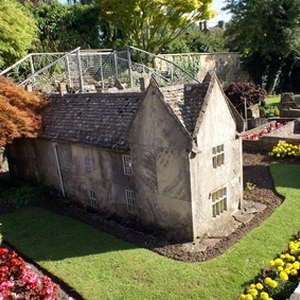 •••
Model house. Model of a house in front of bridge image by L. Shat from Fotolia.com
Minority homeownership has increased greatly since the creation of federal antidiscrimination laws in 1968 and 1974. The laws reduced some discriminatory practices, but less than half of minorities own their homes compared with the almost 75% white homeownership rate today. Homes are a large part of families' wealth, and there are plenty of programs that want to increase home ownership for minorities. Mortgage program administrators range from governments to private businesses.
Fair Lending Enforcement Program
This federal program ensures that minority home buyers seeking mortgages are treated fairly by lenders and other related businesses. The program requires home mortgage lenders to record the race of applicants so that the government can detect any patterns of discrimination. Discrimination often comes in the form of offering predatory loans to neighborhoods that are predominately composed of minorities. The program administrators believe this will encourage lenders to act fairly instead of offering subprime loans to applicants. They also investigate allegations of discrimination against minorities.
U.S. Department of Justice Civil Rights Division 950 Pennsylvania Ave., NW Housing and Civil Enforcement Section, NWB Washington, DC 20530 202-514-4713 justice.gov
American Dream Downpayment Initiative
Federal Housing Assistance provides down payment assistance. The "Almanac of Policy Issues" states that the program was created when President George W. Bush proposed providing assistance with down payments at a housing conference. Down payments are one of the biggest barriers to homeownership for minorities. The American Dream Downpayment Initiative provides interest-free loans that are forgiven as long as recipients stay in the home for 5 years. According to the Raleigh Community Development department, the program covers closing costs and other associated fees as well. The maximum limit per recipient is either $10,000 or 6% of the house's cost. Although this is a federal program, cities and states handle fund disbursement. The Raleigh Community Development department manages the program for people in Raleigh, N.C., and provides financial counseling for applicants.
Raleigh Public Affairs 222 West Hargett St., Room 218 Raleigh, NC 27602 919-996-3100 raleighnc.gov
Rescue Loan Program
ShoreBank's Rescue Loan Program helps minority homeowners who are facing such mortgage issues as foreclosures and interest rate adjustments. According to "Profitwise News and Views," the program is part of the bank's record of assisting minority neighborhoods. It also participated in early antidiscrimination efforts in the 1970s. The program's mission is to reduce the disproportionate number minorities going into foreclosure with fixed-rate loans and information workshops.
ShoreBank Corporation 7054 S. Jeffery Blvd. Chicago, IL 60649 773-420-4663 shorebankcorp.com
References
Writer Bio
Joe Kelly has been writing since 2003, specializing in media, education, design and business issues. She has worked for magazines and other media. Kelly received a Master of Business Administration from St. Edward's University.