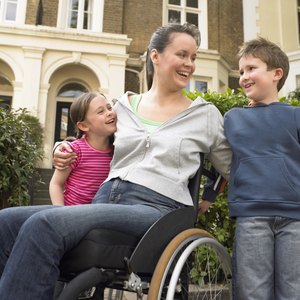 •••
John Rowley/Photodisc/Getty Images
A disability does not have to stand in the way of achieving the American dream of homeownership. There are assistance programs available to help you qualify for a home with an affordable mortgage payment. If you currently own a home, there are also assistance programs that offer emergency grants to help with the mortgage payment. Although most programs are designed to assist low-income disabled individuals and their families, some programs can help those with a moderate income as well.
Habitat for Humanity
Habitat for Humanity is a nonprofit organization that believes everyone deserves a safe and affordable place to live. Through volunteer labor and donations, Habitat for Humanity rehabilitates and builds accessible homes for people with disabilities. The homes are sold at no profit, resulting in very low mortgage payments. The Habitat for Humanity selection committee chooses the applicants based on the level of need, willingness to become partners in the program and ability to repay the loan. You can contact your local Habitat for Humanity to apply.

Read More: How to Donate to Habitat for Humanity
HUD Homeownership Vouchers
The U.S. Department of Housing and Urban Development administers the Housing Choice Homeownership Voucher Program. Through the program, low-income disabled individuals and their families can qualify for a voucher used to purchase a home. Disabled households can qualify for the program, even if they are not first-time home buyers. Your household income must be at least the monthly Supplemental Security Income benefit amount multiplied by 12. At the time of publication, the SSI benefit amount is $710 for an individual and $1066 for an eligible couple. You are expected to contribute 30 percent of your income towards the mortgage, and HUD will pay the remainder. Limitations apply to the purchase price and mortgage payment. Contact your local public housing authority to submit an application.
State Programs
States also offer mortgage assistance programs to help disabled buyers. The programs vary among states. For example, the Pennsylvania Housing Finance Agency provides home loans to the disabled with competitive interest rates through the Keystone Home Loan and Keystone Government Loan. Buyers who qualify are also able to receive funds to make the homes accessible. The Michigan State Housing Development Authority provides down payment assistance of up to $12,000 through the HomeChoice Down Payment Assistance Program for households with a disabled individual. Contact your state's housing finance agency or housing development authority for information on available programs.
Catholic Charities Emergency Assistance
Catholic Charities is the large network of charities throughout the country. The charities provide assistance to people in need, regardless of their religion. If you experience a hardship such as becoming disabled, you may qualify for their emergency assistance program. The program provides emergency payments to help homeowners pay the mortgage. Assistance is generally awarded on a one-time basis. The Catholic Charities USA website provides a complete list of agency branches.
References
Resources
Writer Bio
Jeannine Mancini, a Florida native, has been writing business and personal finance articles since 2003. Her articles have been published in the Florida Today and Orlando Sentinel. She earned a Bachelor of Science in Interdisciplinary Studies from the University of Central Florida.