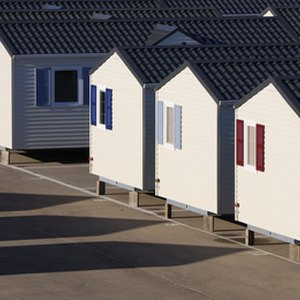 •••
mobiles homes 6 image by Marc Rigaud from Fotolia.com
Mobile or manufactured homes are factory-built in 8-foot sections and transported to the building site or mobile home park. Mobile homes are available in many sizes and floor plans. Retail sales centers often sell them and the price is negotiable.
Dealer
Contact the Better Business Bureau and state or local consumer protection agencies to locate a reputable dealer. A mobile home manufacturer may own and operate retail sales centers. Private parties often sell used mobile homes and real estate agents sell mobile home and land packages. Negotiate the home price with the seller.
Options
People buy new mobile homes from the lot or custom order them from the factory. There are numerous interior options ranging from the type of carpet to the ceiling fan style. Exterior options include the roof type, insulation rating and the style of exterior doors. Negotiate the number and price of the options for the mobile home.
Home Set Up
Often delivery and set up goes into the sales price. The home site may require such preparation as vegetation removal and leveling. Set up includes construction of the foundation, connecting utilities and joining one or more sections of the home. The price of each site preparation and set up requirements is negotiable.
References
Writer Bio
Kim Dieter has taught agriscience classes, developed curriculum and participated in the school accreditation process at the secondary and community college levels since 1980. She holds a Master of Science degree from the University of California, Davis, in animal science.