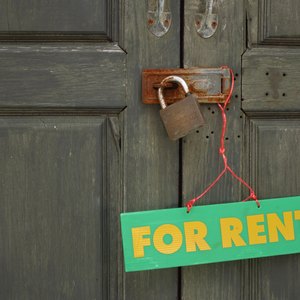 •••
Jupiterimages/Photos.com/Getty Images
The advantages of owning a successful rental property can include positive monthly cash flow and potential equity, leverage and tax benefits. But one mistake in evaluating real estate for use as a rental property can mark the difference between profit and peril. Before purchasing an investment property for rental, aspiring landlords can increase their chances of success by applying the right criteria to answer important questions, and avoid common pitfalls.
Having an Unclear Strategy
Begin by determining your financial goals and timeline. These answers will help you determine if owning residential, multi-family or commercial rental property is best for you. One of the best ways to avoid common beginner mistakes is to partner with an experienced real-estate investor or broker who can help guide you towards promising properties. Another wise move is to join your local landlord association, and take advantage of the educational materials and other support available.
Buying Busted Bargains
Just because a home is available at a "bargain" price does not guarantee its viability as a rental property. In addition to evaluating many of the same factors that come into play with an owner-occupied real estate purchase, careful consideration must also be given to the marketability and profitability of the rental property. Inspect the competition by touring similar properties in the neighborhood at the same rental price point of your home, and you should talk to renters in the area as well.
Underestimating Renovations
A thorough pre-purchase home inspection is a wise investment that will give you a good idea of what needs to be done to ready the property for rental. For a large repair job, be sure to get several professional opinions to determine the most accurate estimate. If you're going the do-it-yourself route, make sure you have the correct skills, tools and time required to complete the job properly. Avoid taking on a fixer upper that requires major repair; instead look for homes that only need cosmetic improvements.
Miscalculating Upkeep
An often underestimated, or over-looked, expense is the cost of regular repairs and ongoing maintenance for the property. Rental homes can require additional upkeep, like replacing the carpet every five years and repainting between tenants. Another important consideration is government legislation and homeowners associations, which will affect expenses such as taxes, insurance and assessments. A good practice is to make sure you have at least six mortgage payments saved up to cover repairs and expenses when the property is vacant.
References
Writer Bio
Gwen Carrington is a marketing professional with experience in strategic brand management, consumer marketing, business-to-business marketing and communications management. She has held lead marketing roles in a variety of industries, including fine jewelry, new homes and technology.