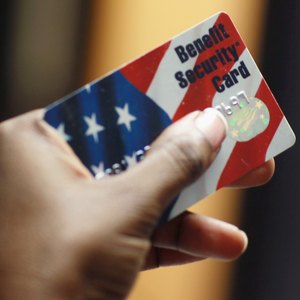 •••
Joe Raedle/Getty Images News/Getty Images
Missouri has several welfare programs that help low-income residents get by. These include a food stamp program, a cash benefit program, a heating assistance program and a child care program. Many people who qualify for these programs will also qualify for the state's Medicaid program. Although these programs may have income and asset restrictions, they are unpublished and not available to the public.
Food Stamps
The Missouri Food Stamp program helps provide low-income households with nutritional food that they might not otherwise be able to afford. The benefits for this program are based on the USDA's Thrifty Food Plan. The amounts change over time, but for June 2010 the Thrifty Food Plan allotted $117.10 for a family of four with two adults and two children between the ages of 2 and 5. Families receive their benefits through a Missouri Electronics Benefits Transfer card and can use their benefits for any food items that are non-alcoholic, not pre-prepared hot food and not foods that are prepared to eat immediately. There are income limits based on family size, which are not publicly published.
Temporary Assistance
Missouri Temporary Assistance provides up to five years of cash assistance to needy families. These families must have a child under the age of 18 to qualify. In addition, adults within the household must be involved in "work activities," meaning that they must have a job, must be in school to get a job or be actively seeking employment. Family assets are limited to $1,000, until a self-sufficiency pact is signed and then it is raised to $5,000. These limits do not include the family home and one vehicle. There are income limits based on family size, which are not publicly published.
Energy Assistance
The Missouri Energy Assistance program helps low-income families pay for the costs of their heating bills during the months of October through March. This program provides a one-time payment of a predetermined amount, not reoccurring payments. There are income limits based on family size, which are not publicly published.
Child Care Services
The Child Care Services program helps low-income parents pay for child care costs for their children, while the parents are at work or school. Anyone receiving Temporary Assistance is automatically eligible for this program, as are other low-income families who fall under the unpublished income guidelines. Payments may be made directly to state-approved child care providers or to parents as reimbursement of expenses.