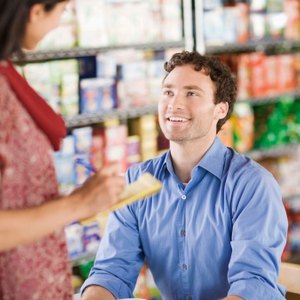 •••
Jupiterimages/Brand X Pictures/Getty Images
Waiters and waitresses, collectively known as servers, represent the largest employee group in the food service industry. According to the Bureau of Labor Statistics, more than 7.6 million Americans work in the food service industry, with more than 6 million of these workers directly serving food or drink to the public in some capacity. Servers may work in full-service restaurants, more casual dining establishments and fast food restaurants.
Ohio Minimum Wage
According to the Ohio Department of Commerce's Bureau of Labor and Worker Safety, Ohio employees who receive tips, including waiters, waitresses and bartenders, must earn a minimum wage of $3.65 per hour. Non-tipped employees, such as workers at fast-food restaurants, must earn at least $7.30 per hour. All servers are entitled to overtime pay in the amount of 1 1/2 times their normal hourly wage for hours more than 40 worked in a single week.
Federal Minimum Wage
According to the U.S. Department of Labor, federal law requires employers to pay non-tipped employees at least $7.25 per hour, so Ohio's minimum wage laws provide only an extra five cents per hour to these employees. Ohio provides a substantially higher minimum wage for tipped employees, as federal guidelines require a minimum hourly wage of only $2.13. Tipped employees must earn at least $7.25 per hour in combined wages and tips. If not, the employer must make up the difference.
Qualifications
The Bureau of Labor Statistics reports that most serving jobs require no formal schooling, although many restaurants prefer to hire high school graduates for server positions. Most restaurants provide on-the-job training to new employees, using online tutorials, training booklets and more experienced staff. Servers must be aware of food safety rules and appropriate sanitation practices. Successful servers, especially at full-service restaurants, will present a neat appearance, show teamwork with co-workers and exude a rapport with customers.
Employment Projections
The Bureau of Labor Statistics projects 10 percent job growth for all servers in the decade between 2008 and 2018, although waiters and waitresses will enjoy only six percent job growth in the same time period. Fast food and counter workers will see a higher increase in new jobs with 14 percent growth. These new workers will not be highly paid. Although median wages vary greatly across the country, the Bureau reports 2008 median wages of $8.01 per hour for waiters and waitresses, including tips.
2016 Salary Information for Food and Beverage Serving and Related Workers
Food and beverage serving and related workers earned a median annual salary of $19,710 in 2016, according to the U.S. Bureau of Labor Statistics. On the low end, food and beverage serving and related workers earned a 25th percentile salary of $18,170, meaning 75 percent earned more than this amount. The 75th percentile salary is $22,690, meaning 25 percent earn more. In 2016, 5,122,500 people were employed in the U.S. as food and beverage serving and related workers.
References
Writer Bio
E.S. Martin is an attorney who has worked in civil litigation for more than eight years. He focuses his work in insurance, personal injury, subrogation and risk management.