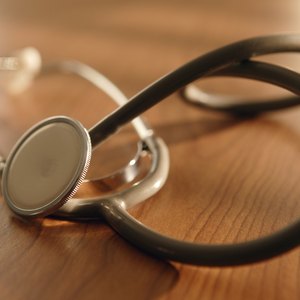 •••
Comstock/Stockbyte/Getty Images
Millions of Americans 65 and older qualify for Medicare Part A, which covers hospital stays, and Part B, which covers physician office visits. However, these plans do not cover all of a patient's expenses. Patients still must pay premiums, deductibles and co-insurance costs. Many private insurance companies offer policies that cover some of these costs and include more benefits. These plans are labeled "Medicare Advantage," also known as "Medicare Part C," and "Medicare Supplement Plans," also known as "Medigap Plans."
Plan Benefits
The biggest difference between Medicare Advantage and Medicare Supplement plans is in the benefits each plan offers. Medicare Advantage participants can receive coverage for dental visits, vision exams, hearing tests and prescription drugs. The main function of Medicare Supplement plans is not to offer additional benefits, but to cover the costs of deductibles and co-insurance in standard Medicare plans. One of the reasons that Medicare Supplement plans are also known as "Medigap" plans is that they cover the "gap" in costs not covered by original Medicare plans.
Provider Networks
Medicare Advantage plans use networks of healthcare providers to keep costs down for their participants. An HMO-style Medicare Advantage plan only covers visits to in-network providers. A PPO-style plan covers visits to out-of-network providers, but at a higher cost. Medicare Advantage plans also may charge higher rates for patients who visit providers outside of their home area. Medicare Supplement plans allow patients to visit any provider who accepts Medicare Parts A and B. HMO-style Medicare Advantage plans require a physician referral to see a specialist, but Medicare Supplement plans have no such requirement.
Plan Flexibility
Medicare Supplement plans come in 10 standard types. Although various insurers offer these plans at different rates, each type of plan has the same benefits. For example, if Alpha Insurance and Bravo Insurance each carry a Medicare Supplement Part B plan, both plans will have the same standard benefits. Medicare Advantage plans can vary widely by location, costs and benefits. Also, Medicare Advantage plans can change from year to year, while the benefits for Medicare Supplement plans seldom change.
Out-of-Pocket Costs
A major concern for Medicare patients is the out-of-pocket costs for their care. Medicare Advantage plans require that participants make a co-payment when they receive services from a provider. Medicare Supplement plans are designed to pay those co-payment costs. Medicare Advantage plans also typically specify a maximum amount for annual out-of-pocket costs. Participants who pay a higher monthly premium will typically be eligible for a lower out-of-pocket maximum. Medicare Supplement plans usually do not specify an annual out-of-pocket limit.
References
Writer Bio
Living in Houston, Gerald Hanks has been a writer since 2008. He has contributed to several special-interest national publications. Before starting his writing career, Gerald was a web programmer and database developer for 12 years.