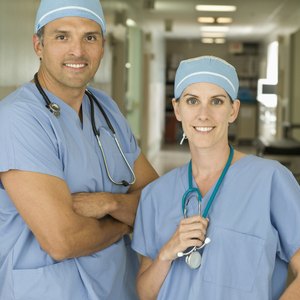 •••
Comstock Images/Comstock/Getty Images
The Association of American Medical Colleges (AAMC) reported students attending private medical schools paid tuition fees between $6,500 and $48,800 for instruction during the 2010-11 school year. Students attending pubic medical schools paid a range between $6,550 and $32,996. Nonresident students pay additional fees at schools, according to the AAMC. Attending medical school requires a sizable investment, but students also have the opportunity for full-ride scholarships.
Military Service Funds Any School
The military, including the Air Force, Navy and the Army branches, offer full-ride scholarships to medical school students attending any school in the U.S. Tuition funding involves an enlistment contract and a commitment to serve as a military doctor after completion of medical school. Doctors in residency programs also have options for full tuition payments as a member of a military reserve medical team. The commitment for this payment includes mandatory community practice and military service as needed by the armed forces.
The Best and the Brightest
Prospective doctors with good undergraduate grades, community service, excellent recommendations and superlative admission test scores on the Medical College Admissions Test have a choice of full-ride scholarships at several medical schools, including medical training programs at the Cleveland and Mayo Clinics. Scholarships at the Mayo Clinic include the Dean's Academic Achievement Scholarships and Mayo Medical School Tuition Scholarships. Both provide students a full-ride at the Ohio training institution. The Cleveland Clinic offers a variety of medical scholarships to complete full funding for tuition awarded through the Clinic Assistance Program, including a general scholarship funded by the medical school.
Research Specialists
The Medical Scientist Training Program (MSTP) also allows free-ride scholarships to a choice of 40 programs at 45 medical schools. The program also offers complete scholarships to students entering medical school in a combination program that incorporates a doctorate degree and medical certification. An additional 75 medical schools participate in the MSTP scholarship program for this specialized degree. The program reported 933 trainees worked under scholarships during 2011, with approximately 170 new positions opening each year. The award has a cap qualification of six years. The MSTP administration notes the full-ride scholarship offering "is highly competitive."
Medical School Exchange for Rural Service
The National Health Service funds tuition and student expenses for housing for medical students making a commitment to serve in areas with little access to doctors or medical services. Candidates accepted into the program elect a medical school of their choice, including private post-secondary study. The initial group of primary health care professionals arrived at sites in September 2010. The National Health Service Corps numbered 8,000 at 10,000 locations around the country. The program provides both medical school scholarships and loan repayments, capped at $170,000 in 2011, during service. The program pays medical school graduates an initial award of $60,000 for their service during the first two years at the approved work locations.
References
Writer Bio
Lee Grayson has worked as a freelance writer since 2000. Her articles have appeared in publications for Oxford and Harvard University presses and research publishers, including Facts On File and ABC-CLIO. Grayson holds certificates from the University of California campuses at Irvine and San Diego.