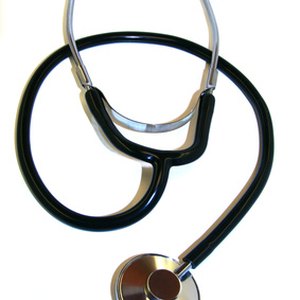 •••
medical tool. image by Yuri Bizgaimer from Fotolia.com
The dream of becoming a medical professional is shared by all kinds of students. However, the cost of attending medical school can sideline many aspiring doctors. For students from the Caribbean, things are no different. Luckily, there are some scholarship programs for Caribbean citizens at certain medical schools. The programs offer a variety of awards, including full tuition. They can help recipients achieve their dream of going to medical school and eventually entering the medical field.
Caribbean Scholarship
Citizens of any of the countries in the Caribbean region can apply for the Trinity School of Medicine's Caribbean Scholarship. Students must have a record of academic excellence and must come from an island nation and can enter the United States without visa restrictions. There is no application process for this scholarship. Instead, recipients will be newly accepted students and they will be selected by the school on the basis of merit. Once awarded, the scholarship will be automatically renewed every academic year and it will provide full tuition.
Curacao Scholarships
Located in Curacao, the American Global University Medical School provides scholarship opportunities to citizens of the three islands that constitute the Leeward Antilles. As such, the university offers five scholarships each year to citizens of Aruba, Bonaire and Curacao. In addition to Antillean citizenship, applicants are required to be low-income and must prove financial hardship. The scholarship will cover full tuition and administrative fees. Curacao citizens that do not receive the full tuition scholarship will get a 50 percent discount on their tuition rate.
The Commonwealth-Grenada Scholarship Program
Citizens of Caribbean islands that were once British colonies and the island of Grenada can take advantage of this scholarship program. Established in 1997 with a $4 million endowment fund, the Commonwealth-Grenada program targets lower-income students. Applicants must be incoming students to one of the St. George's University's medical programs. Once accepted, they must complete an application form and submit a 500-word essay that imagines the applicant at 70 years of age, and the impact the scholarship would play on her life.
Cayman Islands Scholarship
Aspiring medical professionals that are citizens of the Cayman islands can take advantage of the Cayman Islands Scholarship at St. Matthew's University. Each year, the scholarship is awarded to one Cayman citizen that will serve the local community. To apply, students must write a letter of request to the school's scholarship review board. The letter should explain why the applicant wants the scholarship and should provide examples of instances of the student's compassion, commitment to others and tenacity.
References
Writer Bio
Sydelle John is a lawyer who started writing professionally in 2007. She has written for the Guardian's Comment is Free and Pambazuka News, which focuses on pan-African issues. John has a Juris Doctor from the George Washington University Law School and a Bachelor of Arts in political science from Vassar College.