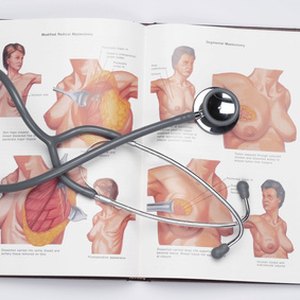 •••
Stethoscope and a medical book image by Monika 3 Steps Ahead from Fotolia.com
In North America, studying medicine is normally incredibly expensive. American students who want to study medicine in a foreign country may be eligible for international medical school scholarships. Many scholarships are available for international (or overseas) students through individual universities abroad. Scholarships—often called grants—are available for undergraduate and post-graduate studies.
International American University, St Lucia
Who wouldn't want to study in picturesque St Lucia? Many potential medical students don't realize how many reputable medical schools are available in the Caribbean. The International American University happens to offer scholarships to foreign students. Grants are renewable as long as recipients maintain passing grades. As of 2010, scholarships cover 75% of the $5400 tuition for the first four terms. Scholarships are competitive and based on academic merit.
The Office of Admissions 5999 Summerside Dr, Suite 220 Dallas, TX 75252 888-440-4474 iau.edu.lc/scholarships
St Lucia Campus IAU College of Medicine Vieux Fort Saint Lucia West Indies 001-758-454-3424
Mexican Government Scholarships for Foreign Students
The Mexican Ministry of Foreign Affairs (SRE) seeks to actively promote foreign relations through providing international scholarships to Mexican universities and medical schools. Grants are for students already possessing a bachelor's, master's, or Ph.D. degree. The SRE scholarships give funding for one to 12 months postgraduate research, three years for Ph.D studies, one year for specialization studies, two years for M.A. studies and up to three years for medical specialties and sub-specialties. And don't forget: proof of Spanish proficiency is a pre-requisite.
Mexican Foreign Ministry 001-52-5-3686-5581 becas.sre.gob.mx
The Marshall Scholarships for British Medical Schools
Forty scholarships are granted each year for American students who wish to study in Britain. The Marshall Scholarships allow U.S. students to study in Britain for up to two years. This international scholarship covers all tuition, living expenses, books and travel. Students must hold a GPA of 3.7 or greater and must apply before October of the year preceding study. In cases of exceptional academic achievement, scholarships can be extended to three years.
Marshall Aid Commemoration Commission Woburn House 20-24 Tavistock Square London, WC1H 9HF UK 001-44-207-380-6700 marshallscholarship.org
References
Resources
Writer Bio
Zia Holte began writing professionally in 2008 for a Panamanian real estate portal. She has been published online at PoetryPoem and Poetry Stop, and she worked closely with author Bruce J. Temkin on his second book. Holte is a member of the Editors' Association of Canada and has a Bachelor of Arts in English.