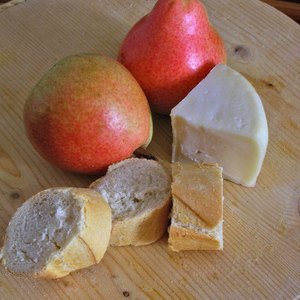 •••
formaggio con le pere image by gianna from Fotolia.com
In times of financial strain and when you reach your retirement years, you can look to the government to help you and your family get over life's hurdles. Whether you are laid off and are struggling to feed your family, pregnant without health insurance or a retired senior in need of groceries and nursing care, government-funded Medicaid and food stamps for unemployed citizens are available nationwide.
Types Of Food Stamp Programs
The U.S. government makes two hunger and nourishment programs available to unemployed and low-income families and individuals nationwide. The Supplemental Nutrition Assistance Program (SNAP) -- formerly known as "The Food Stamp Program" -- allows families to afford nutritious healthy foods at most major grocery stores and some independently owned grocers. You can use SNAP benefits to buy all unprepared foods and beverages excluding alcohol and pet foods. The WIC -- Women, Infants & Children -- program focuses mainly on the nutrition needs of pregnant or nursing mothers, infants and children up to age 5. WIC provides benefits that pay for milk, cheese, baby formula and bread for low-income pre- and post-natal mothers and their families.
What Medicaid Covers
Medicaid is a government-funded program that covers various medical expenses of low-income families and senior citizens. Qualified applicants are typically entitled to receive Medicaid to cover the costs of physicians visits, basic dental care, urgent care and emergency room treatments and vision care services. Certain coverage restrictions apply to adults over 21, but most medical and dental procedures are included in children's Medicaid benefits. Mandatory procedures such as childbirth and nursing home care are provided to eligible recipients.
Eligibility Requirements
Though specific guidelines vary from state to state, typically all unemployed individuals who prove to either be unable to work or are actively seeking work are eligible for both food stamps and Medicaid programs. All children under the age of 18, parents of minor children, pregnant women, people with disabilities and senior citizens with incomes below 133 percent of the poverty level are eligible to receive these benefits. Unemployed families and individuals who meet all criteria are generally guaranteed government assistance under the low-income guidelines.
Application Documents
When applying for Medicaid and food stamp benefits, you will be required provide accurate documentation to prove your identity, the identity and relationship of your family and household members, proof of address and all proof of any income received for everyone in your home. Unemployed applicants are required to show documentation of any past employment -- such as tax returns or pay stubs -- and proof of any unemployment or workers' compensation benefits. Other required verifications include utility bills, rent receipts, child support orders, driver's license or state ID and Social Security cards for all household members.
References
Resources
Writer Bio
Michelle Renee is a professional trainer and quality assurance consultant in the career, education and customer service industries, with two decades of experience in food/beverage and event coordinating management. Renee has been published by Lumino and Career Flight as well as various food, education and business publications.