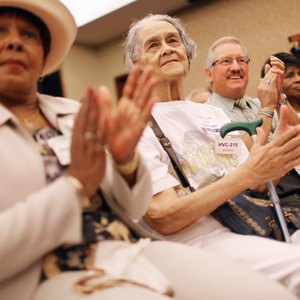 •••
Chip Somodevilla/Getty Images News/Getty Images
The New York State Medicaid program provides health care assistance to low income families, including minor children and pregnant women as well as elderly and disabled individuals. Although the federal government provides the funds and some basic requirements, most of the eligibility rules are set by the state of New York.
Citizenship and Residency
To qualify for Medicaid, federal law states that you must be a United States citizen or legal immigrant with at least five years of residency. New York's Medicaid program also requires you to be a current resident of New York.
Income and Assets
As of 2010, the monthly income threshold for New York Medicaid is $707 for an individual. The threshold increases by approximately $170 for each person in the household. For Medicaid qualification purposes, assets include resources such as cash, bank accounts and investments. Individuals without minor children cannot have more than $13,000 in assets. Childless couples cannot have more than $20,100 in assets. There is no asset threshold for families with children or pregnant women.
Documents
New York requires documentation of your identity, residency and income for you to qualify for Medicaid. You must provide birth certificates and social security cards for all household members that are applying for benefits. Immigrants who apply for Medicaid must provide immigration documents such as a green card. To prove your residency, you will need copies of utility bills, official correspondence form a government agency or a driver's license. New York Medicaid applicants are also required to provide documentation of income with pay stubs, tax return paperwork and Social Security payment statements, child support or other sources of regular income not earned from a job.