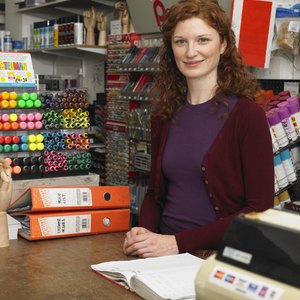 •••
Michael Blann/Digital Vision/Getty Images
People and businesses use stationery products in many ways to communicate specific messages. Determining how to market your stationery products depends on the customers you want to attract and how they purchase stationery. Mixing physical and digital marketing strategies can optimize your marketing process and give you the best reach to spread your message.
Trade Shows
Meet with stationery retailers at national and international stationery trade shows to encourage them to sell your products. Register as an exhibitor or attendee, and prepare the proper amount of your marketing collateral accordingly. Review the trade show schedule, exhibitor list and exhibit floor map before attending the trade show so you can plan visits with potential partners and make the most of your time. Pitch your product features and benefits, and share your product portfolio with stationery retailers who best attract your primary target end users. Follow up regularly with your prospects to remain in the forefront of their minds.
Internet Marketing
List your stationery products on Internet marketplaces to leverage the strength of the marketplace's collective marketing and advertising resources. Set up a professional website and social media pages for your brand to provide additional product information and direct purchasing ability. Promote your website and social media pages using article marketing, search engine optimization and pay-per-click advertising. Create an affiliate marketing program to pay web publishers for promoting your products and creating sales through their websites.
Sub-niche Marketing
Choose a sub-niche target market, such as graduate education, home office, religious retail or destination weddings and sell your products within that niche. Create products and marketing collateral positioned using relevant, current industry catchphrases and trends. Plan for future products that take advantage of customer lifestyle evolution, such as graduate students who move on to become lawyers, or destination brides that plan their regular family activities and vacations.
Mobile Apps
Develop a mobile app to showcase your products and let end customers know where they can purchase your products according to where they are currently located. Allow customers to leave feedback, and collect demographics to better understand them to influence future product growth. Work with retailers to share customer information and offer incentives for repeat and referred purchases.
References
Writer Bio
Yolanda Brown has been writing business-related material since 2005. She owns two businesses and currently publishes "Cardinal Rules," a resource of business-building tips for small- to medium-sized firms. Brown holds a Master of Business Administration from Kenan-Flagler Business School at the University of North Carolina and a Bachelor of Science from the University of Missouri-Columbia.