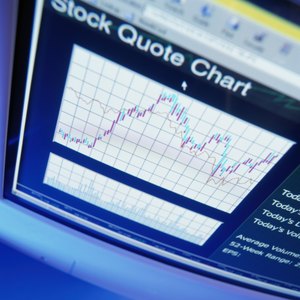 •••
Duncan Smith/Photodisc/Getty Images
Market capitalization and revenue are two prominent measurements of a company's financial strength, size and performance. Investors, analysts and others use both financial tools to examine companies, particularly for the purposes of weighing whether to invest in a company's stock. Market cap measures the value of a company's stock, while revenue reflects a company's financial gains.
Market Cap Basics
The calculation of market cap involves multiplying the price per share of a stock by the total number of outstanding shares. Market cap provides a snapshot of the value of a stock based on market conditions, which can sharply change. Market cap is not tied to a company's other financial measurements. This means that a company producing strong profits may have a relatively low market cap because stock-buyers view other potential problems with it. Or, conversely, a company with modest profits may have a high market cap because of strong optimism for the company's future performance.
Revenue Basics
Revenue is simply the amount of money a company produces. Revenue stems from the sale of goods and services, as well as from other aspects of a business, such as investments or the sale of assets unrelated to its core business. Revenue serves as the basic measurement of how much business a company or other organization enjoys during the measured period. Revenue is often used as a key part of calculations of many other company measurements, such as profits.
Relationship with Stock Market
Market capitalization's calculation is a direct outgrowth of its stock market performance, while revenue's calculation is not tied to market performance. Market cap's overlap with the stock market extends to the frequent use of the calculation to group stocks by size. Low-cap stocks have a market cap of less than $1 billion, mid-cap stocks have a market cap of between $1 billion and $8 billion and large-cap stocks have a market cap of $8 billion and larger, according to Fidelity.
Market-Cap-to-Revenue Ratio
An investing tool that incorporates both market cap and revenue is the market-cap-to-revenue ratio. It represents one effort to measure how closely enthusiasm for a stock is matching the company's actual performance, according to MarketWatch. Investors can use the measurement to consider whether a stock is undervalued or overvalued. For instance, a stock with a market-cap-to-revenue ratio of less than 1.00 shows signs of being undervalued, because its market cap does not match the strength of its revenues. Some investors may consider that a sign the stock is a candidate for growth in the share price.
References
Writer Bio
Tom Gresham is a freelance writer and public relations specialist who has been writing professionally since 1999. His articles have appeared in "The Washington Post," "Virginia Magazine," "Vermont Magazine," "Adirondack Life" and the "Southern Arts Journal," among other publications. He graduated from the University of Virginia.