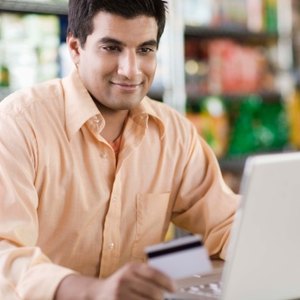 •••
Jupiterimages/Brand X Pictures/Getty Images
High interest rates and numerous fees often accompany credit cards these days so an easy process is usually preferred when making a payment toward your Visa card. By paying your Visa bill on time you are able to avoid expensive late fees, increased interest rates and decreased credit scores; the latter of which can have a lasting effect on your ability to get a job or buy a house or car. Banks issue most Visa cards; to pay your bill you would do so through the specific bank that issued your card. Almost every bank that distributes Visa cards offers numerous ways to conveniently pay your bill.
Drop off your Visa payment at a local branch of the bank you have your account with. Most banks either have a drop box for payments or a customer service agent will be able to process your payment while you wait.
Call your bank's customer service telephone line and pay your Visa bill over the phone. A phone number is listed on the back side of most cards. This option can vary from bank to bank; some may have an automated system while others require that you speak to a customer service representative. Some banks may charge a fee for taking your Visa payment over the phone. Check with your particular bank regarding any service fees that may apply.
Pay your bill online. Most banks will allow you to pay your Visa bill directly from your checking account, even if it comes from a different financial institution. Every bank has its own process, but most often paying online requires that you set up an account with a username, password, email address, security questions and your bank account information.
Mail your payment to your particular bank that has issued the Visa card. Though many persons pay bills online, writing a check and mailing it in is still an acceptable and convenient way to make a payment. Contact your bank to find the correct address to send your Visa payment.
References
Writer Bio
Beth Rifkin has been writing health- and fitness-related articles since 2005. Her bylines include "Tennis Life," "Ms. Fitness," "Triathlon Magazine," "Inside Tennis" and others. She holds a Bachelor of Business Administration from Temple University.